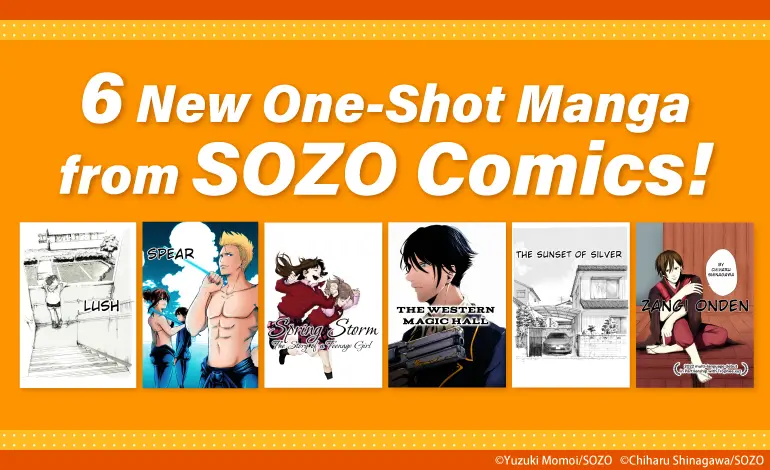 We're excited to announce the addition of six one-shot manga titles* by Yuzuki Momoi and Chiharu Shinagawa from SOZO Comics!
The titles by Yuzuki Momoi are as follows:
Lush
Spring Storm
Sunset of Silver
The titles by Chiharu Shinagawa are as follows:
Spear
The Western Magic Hall
Zangi Onden
*Release dates to be announced later.
Fans can read these titles via subscription on Manga Planet. They can also digitally purchase them via points.
Featuring a subscription plan, as well as options to purchase or rent titles by chapter or volume, Manga Planet offers a variety of manga titles from publishers, mangaka, and independent artists, including but not limited to Kodansha Ltd., WANIBOOKS Co., Ltd., Parsola Inc., highstone, Inc., Starts Publishing, Shodensha Publishing, Thirdline, SOZO Comics, Home-sha, Inc., LEED Publishing Co., Ltd., SAN-EI Corporation, SHONENGAHOSHA, I.T. Planning, Inc., Hobby Japan, CLLENN Inc., COMPASS Inc., OHZORA Publishing Co.,Ltd., Masaya Hokazono, and Nakashima723.
About Manga Planet
Manga Planet started in 2012 as a joint project between FANTASISTA, INC. and Dai Nippon Printing Co., Ltd. to research the ways manga is read throughout the world. 
In 2019, Manga Planet launched the Boys' Love (BL) subscription service futekiya Library, followed by the multi-genre Manga Planet Library in the same year. Both libraries were merged into one Manga Planet in April 2023.
Bridging the needs of international manga fans and the Japanese manga industry, Manga Planet pushes for affordable access to officially licensed English-language manga through its subscription plan, as well as newly added options to purchase or rent individual titles.
Manga Planet's subscription plan starts at US$1.99 for one week. Visit Manga Planet's official website to find out more about its service, and start by signing up for free.