License Announcements
Manga Planet Licenses 11 New Romance Titles from OHZORA Publishing!
Kou Momoka's "Hana to Yuushi Unmei no Koi tte, Arimasuka?," Umeko's "Dame na Pet no Shitsuke Kata," and nine more new romance manga titles to be released on Manga Planet!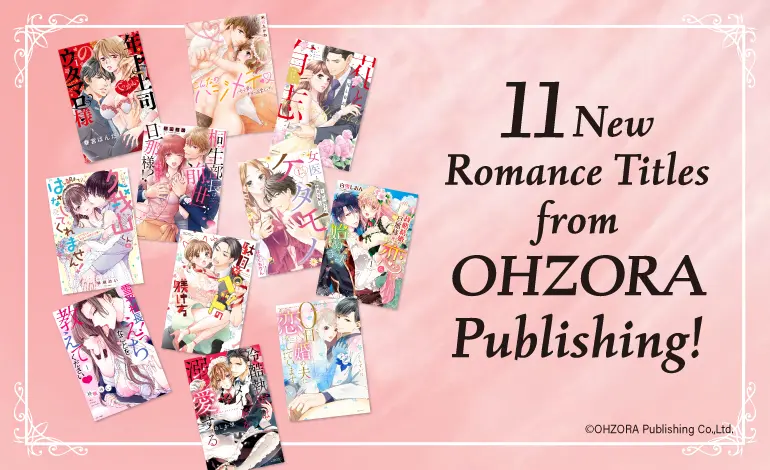 We are pleased to announce the license acquisition of the following romance manga titles* from OHZORA Publishing Co.,Ltd:
Seiryaku Kekkon no Danna-sama (Kari) to Koi wo Hajimemasu.

Volumes 1–3 by Shion Shirayuki

Kiryu Buchou wa Zense no Danna-sama!? Kiss dake de Amaku Tokasarete

by Sawa Kurono

0 nichi kon no Otto ni Koi wo Shiteimasu

by Shaku Sanzui

Joi to Kedamono -Yajuu Danshi no Nikushoku Aibu-

Volumes 1–2 by Rin Hatikumo

Konna no Hajimete -Moteo no Honki no Dekiai Ecchi-

Volumes 1–3 by Takane Yonetani

Hana to Yuushi Unmei no Koi tte, Arimasuka?

Volumes 1–5 by Kou Momoka

Toshishita Joushi no Utamaro-sama Dekkai Kare wo Uketomemasu!!

Volumes 1–5 by Panda Harumiya

Kugayama-kun ga Asa made Hanashite Kuremasen! -Toshishita Kare to no Himitsu no Shinkon Seikatsu-

by Mei Ringo

Yukihira-Shachou! Ecchi na koto wo Oshiete kudasai

Volumes 1–2 by Mei Ringo

Dame na Pet no Shitsuke Kata

Volumes 1–2 by Umeko

Reikoku Shitsuji wa Maid wo Dekiai suru

Volumes 1–2 by Nozomu Ashika
*English titles and release dates to be announced later.
In addition, Manga Planet has also acquired the license for Volume 4 of A Substitute Marriage With an Admirable Husband (Toshiue no Danna-sama) by Mio Tatsumoto.
Fans can read a free sample of these OHZORA Publishing titles in the Manga Planet Library. Subscribers to the Library get to read the succeeding chapters, in addition to other manga titles from Kodansha Ltd., WANIBOOKS Co., Ltd., Parsola Inc., highstone, Inc., Starts Publishing, Shodensha Publishing, Thirdline, SOZO Comics, Tokuma Shoten, Home-sha, Inc., LEED Publishing Co., Ltd., SAN-EI Corporation, SHONENGAHOSHA, I.T. Planning, Inc., Hobby Japan, futurecomics Co. Ltd., COMPASS Inc., and by mangaka Masaya Hokazono and Nakashima723.