License Announcements
11 New Boys' Love (BL) Licenses from COMPASS!
Maki Hashiba's "BINGO!," Kazuma Kodaka's "Boku to Tsugai ni natte Kudasai!," Sonoo Michiru's "KOH-BOKU," and 8 other BL titles to be released on futekiya!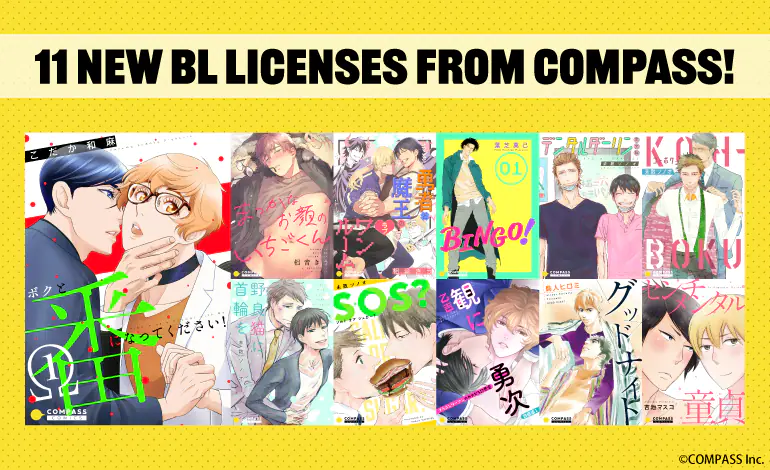 We are excited to announce the license acquisition of the following BL titles* from COMPASS Inc:
BINGO!

Volumes 1-16

by Maki Hashiba

Yuusha to Maou no Love One-Room

by Kiu Aion

Makka na Okao no Ichigo-kun

by Kiu Aion

Good Night

by Hiromi Toribito

Noraneko ni Kubiwa wo

by Sonoo Michiru

KOH-BOKU

by Sonoo Michiru

S・O・S?-Salt or Sugar?-

by Sonoo Michiru

Dental Darling

by Sonoo Michiru

Boku to Tsugai ni natte Kudasai!

Volumes 1-2 by Kazuma Kodaka

Kan ni Yuji -Brocon Ryman no Uso daro!? Renai-

Volumes 1-3 by Otokichi

Sentimental Doutei

by Masuko Yoshiike



*English title and release date will be announced later.
Fans can read the first chapter of these COMPASS BL titles for free. Subscribers to futekiya will have access to the full volumes as well as other BL manga titles published by Shodensha Publishing Co., Home-sha Inc., Parsola Inc., Julian Publishing, Thirdline, Group Zero, MUGENUP Inc., swamp, KAIOHSHA, EIWA Publishing, Media Soft Ltd., futurecomics Co., Ltd., Tokyomangasha, DOGENZAKA SHOBO, TAIYOHTOSHO, TORICO, COMPASS Inc., Libre Inc., TOSUISHA Co.,Ltd., Shonengahosha, Shusuisha Inc., ShuCream Inc.,  and independent BL artists in the futekiya Library.