License Announcements
8 New BL Titles from Animate International Coming to Manga Planet's futekiya Category!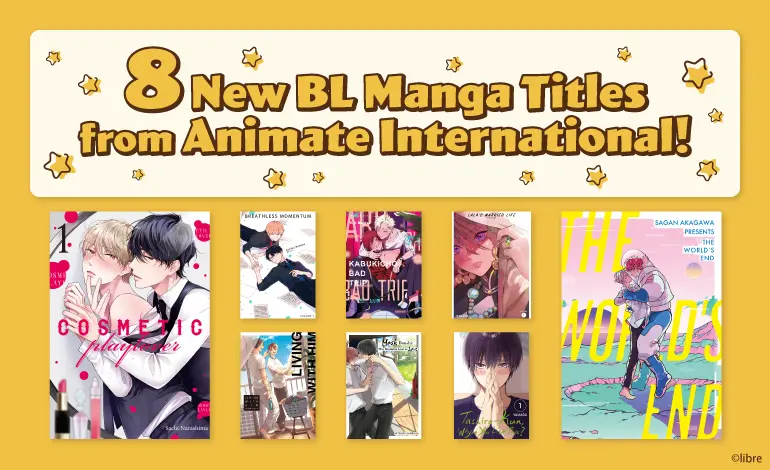 We are delighted to add eight new BL manga titles* from Animate International Co., Ltd. to our library:
Breathless Momentum

Volumes 1–2 by Zeniko Sumiya

Cosmetic Playlover

Volume 1 by Sachi Narashima

Kabukicho Bad Trip

Volumes 1–2 by Eiji Nagisa

Lala's Married Life

Volumes 1–4 by Tamekou

Living With Him

by Toworu Miyata

Mask Danshi: This Shouldn't Lead to Love

Volumes 1–3 by Mitsuru Sangou

Tashiro-kun, Why're You Like This?

Volumes 1–2 by Yamada

The World's End

by Sagan Akagawa
*Release dates to be announced later.
These titles will be added to Manga Planet's futekiya (BL) category. They will be excluded from Manga Planet's subscription plan; fans can read these titles by digitally purchasing them with points.
Featuring a subscription plan, as well as options to purchase or rent titles by chapter or volume, Manga Planet offers a variety of manga titles of different genres from publishers, mangaka, and independent artists. 
The catalog of futekiya, its BL category, includes titles published by Shodensha Publishing Co., Home-sha Inc., Parsola Inc., Julian Publishing, Thirdline, Group Zero, MUGENUP Inc., swamp, KAIOHSHA, EIWA Publishing, Media Soft Ltd., futurecomics Co., Ltd., Tokyomangasha, DOGENZAKA SHOBO, TAIYOHTOSHO, TORICO, COMPASS Inc., Libre Inc., TOSUISHA Co.,Ltd., Shonengahosha, Shusuisha Inc.,  ShuCream Inc., and independent BL artists.
About Manga Planet
Manga Planet started in 2012 as a joint project between FANTASISTA, INC. and Dai Nippon Printing Co., Ltd. to research the ways manga is read throughout the world. 
In 2019, Manga Planet launched the Boys' Love (BL) subscription service futekiya Library, followed by the multi-genre Manga Planet Library in the same year. Both libraries were merged into one Manga Planet in April 2023.
Bridging the needs of international manga fans and the Japanese manga industry, Manga Planet pushes for affordable access to officially licensed English-language manga through its subscription plan, as well as newly added options to purchase or rent individual titles.
Manga Planet's subscription plan starts at US$1.99 for one week. Visit Manga Planet's official website to find out more about its service, and start by signing up for free.