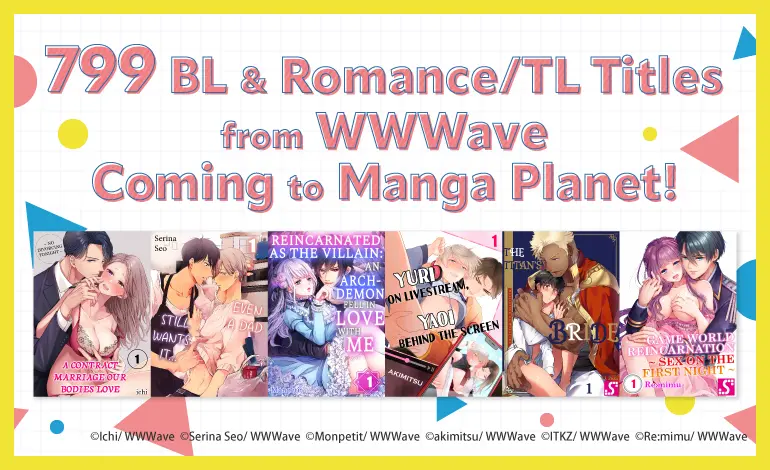 We are excited to announce the upcoming addition of 799 Boys' Love (BL) and romance manga titles* from WWWave to our library!
Readers can look forward to BL titles such as the following:
Caressing the Nipples of My Hibernating Bear

by Haruchika

Even a Dad Still Wants It…

by Serina Seo

Fucked by My Best Friend

by Yupopo Orishima

The Titan's Bride

by ITKZ

Yuri on Livestream, Yaoi Behind the Screen

by akimitsu
WWWave's lineup also includes romance titles such as:
70% of Overtime Workers Will Have Sex

by Yukari Takenaka

A Contract Marriage Our Bodies Love ~ No Divorcing Tonight ~

by Ichi

Did My Biceps Turn You On?

by Takayama Koba

Game World Reincarnation ~ Sex on the First Night ~

by Re:mimu

Reincarnated as the Villain: An Archdemon Fell in Love With Me

by Monpetit
*The release dates for these titles will be announced later.
In total, over 7,000 chapters will be added to Manga Planet's library in batches. These series will be readable exclusively via Points; they will not be covered by Manga Planet's subscription plan.
Featuring a subscription plan, as well as options to purchase or rent titles by chapter or volume, Manga Planet offers a variety of manga titles of different genres from publishers, mangaka, and independent artists such as Kodansha Ltd., WANIBOOKS Co., Ltd., Parsola Inc., highstone, Inc., Starts Publishing, Thirdline, SOZO Comics, LEED Publishing Co., Ltd., SAN-EI Corporation, SHONENGAHOSHA, I.T. Planning, Inc., Hobby Japan, OHZORA Publishing Co.,Ltd., Masaya Hokazono, and Nakashima723.
The catalog of futekiya, Manga Planet's BL category, includes titles by Shodensha Publishing Co., Home-sha Inc., Julian Publishing, Group Zero, MUGENUP Inc., swamp, KAIOHSHA, EIWA Publishing, Media Soft Ltd., futurecomics Co., Ltd., Tokyomangasha, DOGENZAKA SHOBO, TAIYOHTOSHO, TORICO, COMPASS Inc., Libre Inc., TOSUISHA Co.,Ltd., Shusuisha Inc.,  ShuCream Inc., and independent BL artists.
About Manga Planet
Manga Planet started in 2012 as a joint project between FANTASISTA, INC. and Dai Nippon Printing Co., Ltd. to research the ways manga is read throughout the world.
In 2019, Manga Planet launched the Boys' Love (BL) subscription service futekiya Library, followed by the multi-genre Manga Planet Library in the same year. Both libraries were merged into one Manga Planet in April 2023.
Bridging the needs of international manga fans and the Japanese manga industry, Manga Planet pushes for affordable access to officially licensed English-language manga through its subscription plan, as well as newly added options to purchase or rent individual titles.
Manga Planet's subscription plan starts at US$1.99 for one week. Visit Manga Planet's official website to find out more about its service, and start by signing up for free.