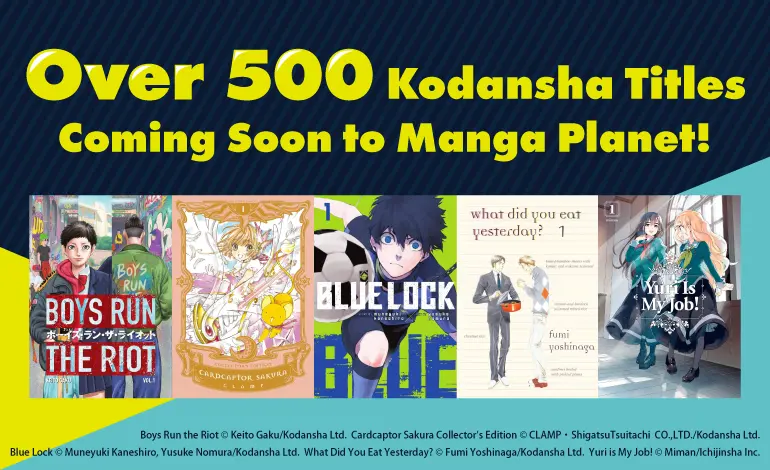 We have partnered with Kodansha to add over 500 titles to our catalog from August 2023 onward!
This marks Kodansha's second wave of releases on Manga Planet. Spanning a variety of genres, the lineup includes well-known titles from Kodansha and its subsidiary Ichijinsha Inc., such as:
Blue Lock

by Muneyuki Kaneshiro and Yusuke Nomura

Boys Run the Riot

by Keito Gaku

Cardcaptor Sakura Collector's Edition

by CLAMP

Hitorijime Boyfriend

by Memeko Arii

Loveless 1 (2-in-1 edition)

by Yun Kouga

MARS

by Fuyumi Soryo

Pretty Guardian Sailor Moon Eternal Edition

by Naoko Takeuchi

The Summer of You (My Summer of You)

by Nagisa Furuya

Tokyo Mew Mew Omnibus

by Mia Ikumi

Vinland Saga

by Makoto Yukimura

What Did You Eat Yesterday?

by Fumi Yoshinaga

Witch Hat Atelier

by Kamome Shirahama

Yuri is My Job!

by Miman

Readers can use Manga Planet Points to digitally purchase these titles by the volume.
Also to be added are subsequent volumes to currently available Kodansha titles on Manga Planet, including Attack on Titan by Hajime Isayama, Chihayafuru by Yuki Suetsugu, Land of the Lustrous by Haruko Ichikawa, Princess Jellyfish by Akiko Higashimura, and Tokyo Revengers by Ken Wakui.
These were part of Kodansha's first wave of releases on Manga Planet in 2021, when selected volumes of over 150 titles were added to our service. To continue reading titles from Kodansha's first wave of releases, readers can use their Points to purchase subsequent volumes.
In total, more than 4,000 volumes will be gradually released in batches from August 2023.
About Manga Planet
Manga Planet is an online reading service for officially licensed Japanese manga in English, offering a variety of titles from publishers, mangaka, and independent artists. It started in 2012 as a joint project between FANTASISTA, INC. and Dai Nippon Printing Co., Ltd. to research the ways manga is read throughout the world.
Bridging the needs of international readers and the Japanese manga industry, the service makes manga more accessible for readers around the world.
Visit Manga Planet's official website to find out more about its service, and start by signing up for free.