Terms of Service
Last updated: April 3rd, 2023
Before using and accessing our website and/or using our service, please read these Terms of Service carefully. mangaplanet.com ("Manga Planet", "we", "us", and "our") provides its sites and services ("Site" and "Service") subject to your ("User", "you", and "your") compliance with the following terms and conditions (the "Terms of Service" and "Terms"). The following terms and conditions govern all use of the website, service, and all content, and products available at or through the Site.
If you do not agree with the terms and conditions of these Terms of Service and our Privacy Policy, please do not use our Site.
It is a condition of use of this Site that all the details you provide be correct, current, and complete. If we believe the details are not correct, current, or complete, we have the right to refuse you access to the Site, or any of its resources, and to terminate or suspend your account.
By continuing to use this site, we will assume (and by using this Site you warrant that) you have legal capacity to enter into the agreement set out in these Terms of Service (i.e. that you are of sufficient age and mental capacity and are otherwise entitled to be legally bound in contract). If you are a minor, you must get your parent or legal guardian to review and agree to these Terms of Service and our Privacy Policy on your behalf.
Third parties (i.e. PayPal and Stripe) are subject to their own terms of use. Please refer to the terms of use of the respective third parties as they are not covered by these Terms.
If you have any questions or concerns regarding the Site or these Terms, please contact us through our Contact Form.
MODIFICATIONS OF THE SITE AND TERMS OF SERVICE

Manga Planet, in its sole and absolute discretion, may make changes or modifications to the Site (including any policies or agreements which are incorporated by reference herein) at any time and without prior notice to you, and such changes or modifications shall be effective immediately upon posting to this Site.
We may revise these Terms of Service arbitrarily, and we may also declare a supplementary Terms of Service. Any revision or supplementary Terms of Service shall take effect immediately after it is posted on the website. The user shall comply with the revised and additional Terms of Service.
In the event of a dispute regarding these terms, the jurisdiction will fall to the Tokyo District Court.
You acknowledge and agree that:

Manga Planet may notify you of changes or modifications by posting them to this Site.
Your use of this Site after changes or modifications have been made, shall constitute your acceptance of this Terms of Service as last revised.

Manga Planet may occasionally notify you of upcoming changes or modifications to this Site by email. We, therefore, recommend that you keep your account information including, but not limited to, your email address, current.
If you do not agree to the amended Terms, you must stop accessing and using our Site.

USER ACCOUNT SECURITY

If you are a registered user ("Registered User" means a user who has signed up, registered, or created a free account), subscribed user ("Subscribed User" and "Subscriber" means a user who has purchased a subscription plan and is currently within the subscription plan's specified duration), or gift code user ("Gift Code User" means a user who has used a Gift Code and is currently within the Gift Code's specified duration), you must maintain the security of your account and promptly notify us if you discover or suspect that someone has accessed your account without your permission.
You are not permitted to allow others to use your account credentials and are therefore responsible for any consequences that arise from violating this term.
It is your responsibility to maintain your account credentials and ensure that they are up to date, accessible, and following our guidelines and warnings.

TRADEMARKS AND COPYRIGHTS

This Site and materials on this Site ("Material") are protected by copyrights, patents, trade secrets or other proprietary rights ("Copyrights"). Some of the characters, logos or other images on this Site may also be protected as registered or unregistered trademarks, trade names and/or service marks owned by Manga Planet or others ("Trademarks"). Manga Planet respects the intellectual property rights of others and requires you to do the same.

USE OF MATERIAL

Your right to make use of this Site and any Material or other content appearing on it is subject to your compliance with these Terms of Service. Modification or use of the Material or any other content on this Site for any purpose not permitted by these Terms of Service may be a violation of the Copyrights and/or Trademarks and is prohibited.
You may access and display Material and all other content displayed on this Site for non-commercial, personal, entertainment use only on devices within your possession and control. The Material and all other content on this Site may not otherwise be copied, reproduced, republished, uploaded, posted, transmitted, distributed or used in any way unless specifically authorized by us. Any authorization to copy Material in any part of this Site for any reason is restricted to making a single copy for non-commercial, personal, entertainment use on a single computer only, and is subject to your keeping intact all copyright and other proprietary notices.
Using any Material on any other web sites or networked computer environments is prohibited. Also, decompiling, reverse engineering, disassembling, or otherwise reducing the code used in any software on this Site into a readable form in order to examine the construction of such software and/or to copy or create other products based (in whole or in part) on such software, is prohibited.

PRIVACY

Please refer to our Privacy Policy for information about how we collect, use, and disclose information about you.

USER CONDUCT

You agree to use the Manga Planet service, including all features and functionalities associated therewith, in accordance with all applicable laws, rules, and regulations, or other restrictions on the use of the service or content therein.
You agree not to archive, reproduce, distribute, modify, display, perform, publish, license, create derivative works from, offer for sale, or use (except as explicitly authorized in these Terms of Service) content and information contained on or obtained from or through the Manga Planet service. You also agree not to: circumvent, remove, alter, deactivate, degrade or thwart any of the content protections in the Manga Planet service; use any robot, spider, scraper or other automated means to access the Manga Planet service; decompile, reverse engineer or disassemble any software or other products or processes accessible through the Manga Planet service; insert any code or product or manipulate the content of the Manga Planet service in any way; or, use any data mining, data gathering or extraction method.
You agree not to upload, post, e-mail or otherwise send or transmit any material designed to interrupt, destroy or limit the functionality of any computer software or hardware or telecommunications equipment associated with the Manga Planet service, including any software viruses or any other computer code, files or programs.
We may terminate or restrict your use of our service if you violate these Terms of Service or are engaged in illegal, fraudulent or harmful use of the service.

INDEMNITY

You agree to indemnify and hold harmless Manga Planet and their directors, officers, managers, employees, shareholders, agents, and licensors, from and against all claims, demands, disputes, losses, expenses, damages, and costs, including reasonable attorneys' fees, arising out of or in relation to your breach of these Terms of Service or your misuse of our Site and services.
Manga Planet reserves the right to assume the exclusive defense of any claim for which we are entitled to indemnification under this Section. In such an event, you shall provide us with such cooperation as is reasonably requested by us.

USE OF AND ACCESS TO OUR SERVICE

Subject to these Terms and the payment of fees when required, we grant you a personal, non-exclusive, non-transferable license, without right of sublicense, to access and use our Service on devices within your possession and control. Our Service may only be used for your personal entertainment purposes, and not for any commercial purpose or for the benefit of any third party, unless explicitly stated otherwise.
Our content, features, and functionality are owned by Manga Planet, our licensors, or other suppliers of such material and are protected by copyright and other laws and international treaty provisions. Except for the licenses explicitly granted by these Terms, these Terms do not grant you any rights to patents, copyrights, trade secrets, trademarks, source code, or any other right, title or interest in Manga Planet, our licensors and other suppliers. Manga Planet and any content made available to you by Manga Planet are licensed, not sold, to you for use only under these Terms. Manga Planet reserves all rights not expressly granted to you.
You have the responsibility to compensate the damage suffered by Manga Planet if you:

Access our Site through an unauthorized login.
Interfere with our business such as altering the information on our Site, or attack our server.
Perform actions that infringe the intellectual property rights of the products handled by us.
Perform other actions that violate our Terms of Service.

In principle, Manga Planet does not disclose your information to third parties without your prior consent. However, the company has the right to disclose your and other customer information without your prior consent when:

Laws and regulations are concerned, such as when the prefectural institution or local government need cooperation from Manga Planet.
There is a necessity to protect human life and/or property assets, but person-in-concern could not be contacted for consent.

Users hold the right to delete their accounts. The deletion does not cover information such as the User's purchase history, which is used anonymously to calculate author/copyright holder profits.
Users have the responsibility to compensate the damage suffered by Manga Planet, our licensors and other suppliers if they perform the following actions:

Access through an unauthorized login.
Interfere with our business such as, but not limited to, altering the information on our website, or attacking our server with a great amount of access.
Actions that infringe the intellectual property rights of the products handled by us, our licensors and other suppliers.
Other actions that violate our Terms of Service.

Manga Planet holds the right to provide information to you (including advertisement) by e-mail and other methods. If you wish to opt out, we will suspend the information service if you notify us through the designated method. However, for important information regarding our service, information suspension choice is not available.

PAYMENT METHOD

Some aspects of our Service require the payment of fees. Unless otherwise noted, all currency references are in U.S. dollars. If you are required to pay a fee, you must provide one or more Payment Methods. "Payment Method(s)" means a current, valid, accepted method of payment, as may be updated from time to time, and which may include payment through your account with a third party.
You authorize us to charge any Payment Method associated with your account in case your primary Payment Method is declined or no longer available to us for payment of necessary fees. You remain responsible for any uncollected amounts.
If a required payment is not successfully settled, due to expiration, insufficient funds, or otherwise, and you do not delete your account, we may suspend your access to the service until we have successfully charged a valid Payment Method.
For some Payment Methods, the issuer of your Payment Method may charge you certain fees, such as foreign transaction fees or other fees relating to the processing of your payment or Payment Method. Local tax charges may vary depending on the Payment Method used. Check with your Payment Method service provider for details.
You will be responsible for any changes in account information such as, but not restricted to, e-mail address, password, payment method. We are not responsible for you losing access to your account and the purchased contents therein, or any other damage caused due to your negligence of updating information, or use of erroneous or inadequate information, or loss of access to your login credentials. Please be aware that even if the change in registration information has been made, the previous transactions that have been made before the change will be made based on the previously provided information.

POINTS

Some aspects of our Service require the use of Points. "Points" are virtual tokens that may be purchased by you through the Manga Planet Authentication System or gifted by us for use within our Service.
You do not own the Points, and the amounts of any Points do not refer to any credit balance of real currency or its equivalent. Any Points balance shown in your account does not constitute a real-world balance or reflect any stored value. Points are not redeemable for any sum of money or monetary value from Manga Planet or others.
We reserve the right to reduce, liquidate, deactivate, suspend, or terminate your Points or access thereto if we suspect, after reasonable investigation, that you have misused Points or have otherwise used them to conduct any fraudulent or illegal activity.
Points are non-transferable to another person or account.
Some Points may be subject to expiration. Expiry dates are specified on the Manga Planet Authentication System. You are responsible for managing your Points.
Points are not eligible for refunds or resale for any reason, unless an error was caused by a detected fault in our system.

SUBSCRIPTIONS

You will qualify as a Subscribed User after successfully completing the subscription procedure and having an account that is currently within the specified duration of the subscription plan.
Subscription by proxy is not permitted.
By purchasing a subscription plan, you agree to an initial and recurring subscription fee according to the duration of the purchased plan at the then-current rate. You authorize us to automatically charge the subscription fee for the next billing cycle to your Payment Method unless you cancel your subscription.
Subscribed Users are responsible for managing their subscriptions, which can be done through the Manga Planet Authentication System. Subscribed Users are also responsible for keeping track of their subscription's renewal date. A subscription is considered canceled when a successfully processed cancellation procedure is reflected on our system.
You are responsible for any changes in account information such as, but not restricted to, e-mail address, password, payment method. We are not responsible for you losing access to your account and the purchased contents therein, or any other damage caused due to your negligence of updating information, or use of erroneous or inadequate information, or loss of access to your login credentials.
We may refuse subscription renewal applications from Users who have been disqualified as a Subscribed User or considered unsuitable by us in the past.
We may cancel your subscription only in the following cases:

An indication of a false declaration at the time of subscribing.
Other reasons that our company deem not suitable.

We may occasionally change our subscription plans and their prices; however, any price changes or changes to subscription plans will apply to subsequent billing cycles following notice of the change(s) to you or the attempted notice of the change(s) to you.
You may cancel your subscription any time through the Manga Planet Authentication System. Your subscription is considered canceled when a successfully processed cancellation procedure is reflected on our system. We do not provide refunds or credits for any partial subscription periods or for any payment that has already been settled, such as previous months' subscription fee, unless otherwise specified by us.

INDIVIDUAL SALES

You must have an account to access content that requires the payment of fees such as, but not limited to, content that is available through per-chapter or per-volume purchase and rental ("Individual Sales").
Individual Sales require the use of Points.
Individual Sales are final. Once Individuals Sales are settled, you will not be refunded unless an error was caused by a detected fault in our system.
You are responsible for any changes in account information such as, but not restricted to, e-mail address, password, payment method. We are not responsible for you losing access to your account and the purchased contents therein, or any other damage caused due to your negligence of updating information, or use of erroneous or inadequate information, or loss of access to your login credentials.

GIFT CODES

You will qualify as a Gift Code User after successfully redeeming and using a Gift Code that has been gifted to you by us or another user or purchased yourself and having an account that is currently within the specified duration of the Gift Code.
You must have an account to redeem a Gift Code. However, you must be a Registered User to use a Gift Code.
Gift Codes may be purchased by using a Payment Method or Points.
All Gift Code purchases are final. Once Gift Code sales are settled, you will not be refunded unless an error was caused by a detected fault in our system.
You are responsible for any changes in account information such as, but not restricted to, e-mail address, password, payment method. We are not responsible for you losing access to your account and the purchased contents therein, or any other damage caused due to your negligence of updating information, or use of erroneous or inadequate information, or loss of access to your login credentials.

SUSPENSION OF SERVICE

We may suspend all or part of the service without prior notice when:

There is a necessity to do maintenance on the system.
There is a heavy load concentrated on the system.
The operation of the system becomes difficult due to fire, blackouts, disturbing acts by third parties, etc.
Other cases arise in which it is deemed necessary to halt the system and services.

We are not responsible for any disruption, delay, discontinuation, loss of data, disability to access the data or any communication and computer line damage that is caused by unauthorized access and members.
We do not guarantee that the mail/contents sent from our webpage, server, domain, etc. do not contain malicious items such as computer viruses. We are not responsible for any damage caused by members violating these Terms of Service.

DISCLAIMER OF WARRANTIES

Your use of this site is at your own risk. This Site and its material, information, software, facilities, services, or other content are provided without warranties. Manga Planet does not warrant that the functions contained in this Site will be available, uninterrupted or error-free, that defects will be corrected, or that the Site or the servers that make the Site available are free of viruses or other harmful components.
We do not warrant or make any representations regarding the use or the results of the use of the material, information, software, facilities, services, or other content or any web sites linked to the Site in terms of their correctness, accuracy, reliability, or otherwise.
We do not warrant that your use of this Site will not infringe the rights of others and will not assume any liability or responsibility in such events.
If applicable law does not allow the exclusion of some or all of the above implied warranties to apply to you, the above exclusions will apply to you only to the extent permitted by applicable law.

LIMITATION OF LIABILITY

Manga Planet disclaims all liability whether based in contract, tort (including negligence), strict liability or otherwise, and does not accept any liability for any loss or damage resulting from any use of, or inability to use, the Site, material, information, software, facilities, services or other content, regardless of the basis upon which liability is claimed.
Manga Planet disclaims all liability for you losing access to your account and the purchased contents therein, or any other damage caused as a result of your negligence to update information, or use of erroneous or inadequate information, or loss of access to your login credentials.
Without limitation, you will assume the entire cost of all necessary servicing, repair or correction in the event that any such loss or damage arises. If applicable law does not allow all or any part of the above limitation of liability to apply, the limitations will apply only to the extent permitted by applicable law.
Please act responsibly when using our Site.
You may only use our Site and its content for lawful purposes and in accordance with applicable law.

DMCA NOTICE & INFRINGEMENT CLAIMS

Manga Planet is an online service provider as defined in the Digital Millennium Copyright Act.
If you believe that any content appearing on this Site infringes your copyright rights, please forward the following information to Manga Planet through our Contact Form:

Your name, address, telephone number, and e-mail address.
A description of the copyrighted work that you claim has been infringed.
The exact URL or a description of each place where alleged infringing material is located.
A statement by you that you have a good faith belief that the disputed use has not been authorized by you, your agent, or the law.
Your electronic or physical signature or the electronic or physical signature of the person authorized to act on your behalf.
A statement by you, made under penalty of perjury, that the information in your notice is accurate, that you are the copyright owner or authorized to act on the copyright owner's behalf.

GOVERNING LAW AND COURT OF JURISDICTION

These Terms shall be governed by and construed in accordance with the laws of Japan. Any dispute arising out of or in connection with these Terms or the transactions contemplated by these Terms (including any tort and other non-contract claims) shall be subject to the exclusive jurisdiction of the Tokyo District Court.

REFUNDS

We do not provide refunds or credit for any reason unless an error was caused by a detected fault in our system.
We are not responsible for you losing access to your account and the purchased contents therein, or any other damage caused due to your negligence of updating information, or use of erroneous or inadequate information, or loss of access to your login credentials.
Third parties (i.e. PayPal and Stripe) are subject to their own terms of use. Please refer to the terms of use of the respective third parties as they are not covered by these Terms.
Read Officially Licensed Manga
Hundreds of titles at your fingertips by subscription, rental, or purchase!
Your Manga Planet journey starts
with a free account!
Sign Up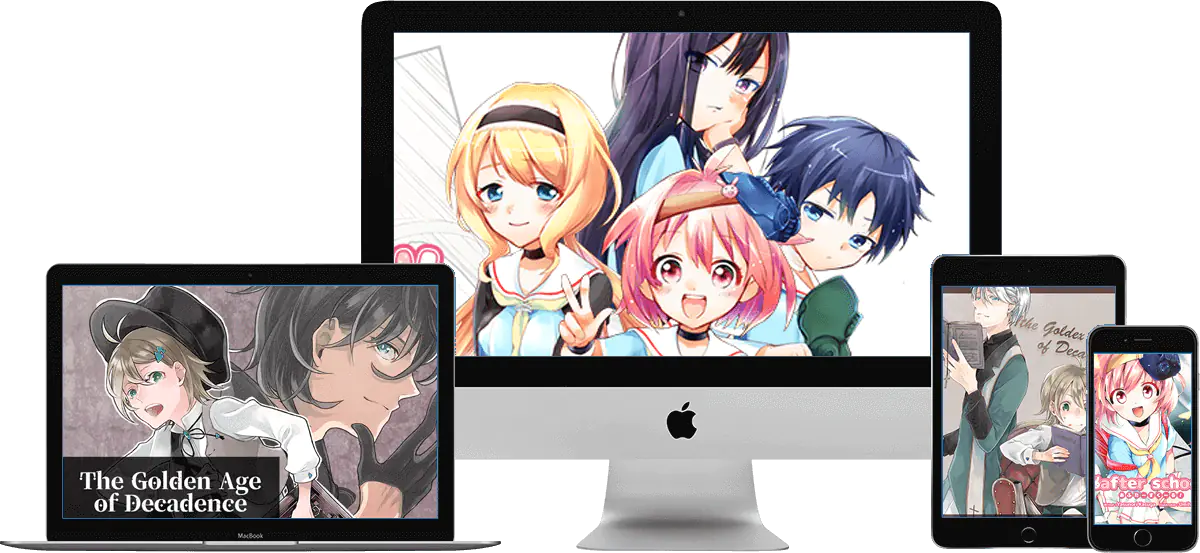 Read Free
We allow users to preview titles in our library by making the first chapter — or even beyond, for selected titles — available for free. Through free previews, you can get a feel of not only what a title is like, but also whether Manga Planet's line-up is for you.
Read with Points
The individual-purchase model is recommended for users looking only for specific titles. For a reasonable price, you can digitally rent chapters or volumes for a specific period of time, or digitally purchase to access them for an unrestricted period of time.
Unlimited Reading with Subscription
Our subscription plan gives you access to a vast selection of manga for a fixed price. Choose from five different plans according to your budget and lifestyle: 1 Week, 1 Month, 3 Months, 6 Months, and 12 Months. This is our best-known option, and we recommend it for those who read a lot of manga.
Read with Gift Code
Gift codes offer an alternative to a subscription to Manga Planet. Treat your friends to a subscription!