License Announcements
Manga Planet Licenses 279 Titles from Mobile Media Research!
A wide range of Adult, Boys' Love (BL), and Teens' Love (TL) / Romance titles to be added to Manga Planet's library!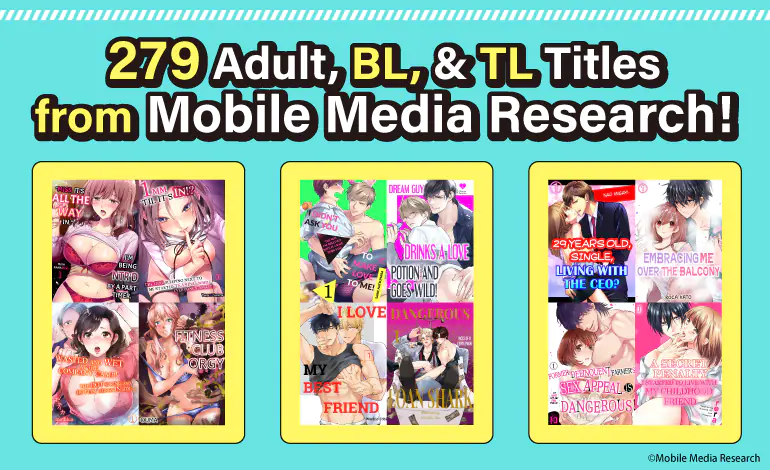 We're delighted to announce the license acquisition of 279 manga titles* of the Adult, Boys' Love (BL), and Teens' Love (TL) / Romance genres from Mobile Media Research!
The titles are organized by genre and in alphabetical order as follows:
Adult (49 Titles)
1 mm 'til it's in!? The girl sleeping next to me started teasing while everyone's asleep…

by Suzuma Tsugumi

A Scorching Hot Day with A Broken Air Conditioner If I Keep Having Sex with My Sweaty Childhood Friend…

by Yukemotsu

A Sexless Wife Finds Pleasures in a Sexual Beauty Treatment and Cums Again and Again

by Kanitomato

A Sexy Massage While The Hubby's Away – My masseur's making me come with his thick fingers…!

by Sanku

A Wife who Gets Teased Continually by a Masseur ー A Massage that Makes Me Cum Behind My Husband's Back

by Icelatte

Actual Sex Under a Towel! Immoral Thrusts Breaks Common Sense During a Hot Springs Report!

by Non Takayama

Adultery With My Friend's Husband ~The Wife Who Climaxes Countlessly in a Secret Relationship from Her Husband

by Tokei Shisei

Bathhouse Cowgirl Sex! Connecting with My Naked Childhood Friend…

by Alto Mizuno

Company Outing That Never Ends Even If I Cum – "I'm Fucked By My Childhood Friend…!

" by Akira Aono

Daily Sex in the Girls' Dormitory — Schoolgirls' Insides Feel so Good…!!

by Mitan Inoue

Don't Rub It Against Me There…! Dirty Thrills Under Grinding Frills! Deep Penetration and Instant Orgasm SEX

by Tamako Kimio

"Even Though I Shouldn't Cum…" Lewd Fingerings of My Boyfriend's Big Brother

by Kanitomato

Fitness Club Orgy

by OUMA

Fucked with a Giant Dick from Behind while on the Phone – A Serious Wife's Filthy SEX

by Icelatte

Gender Swap and Naughty Checkup! You Said that You Were Just Gonna See It…

by Hayate Matsuyama

Girls' University Club SEX Training ー I'm Made to Cum Again and Again During the Training Camp

by Rumi Ayano

"Hey, what are you… Agh!" Fooling a Classmate to Get Naked for Physical Chec

k by Mitan Inoue

I Can't Believe I Cum From Having My Nipples Teased…! Breast Fortune-Telling that Makes a Cheeky Girl Pant and Cum

by Yuit Azuru

I can't believe my childhood friend made me cum…! Hate sex on our first day living together

by Ren Togari

I was Drunk and Made to Cum Violently, It was Merciless Sex with My Loser Senior

by Yu Yago

"I'll Make Them Cum with My Fingering!" A New Life Where I Can Fuck With A Lv999 Massage

by Megi

"I'm cumming from my husband's subordinate…" The cheating wife who can't resist feeling it.

by Airi Katsura

If I Say No, You're Still Gonna Put It In, Right? – I Take a Bath with My Student and Cum

by Megi

Insertion Into a Lewd Spot…! Slippery and Sensitive Beauty Treatment in a Club Full of Girls

by Yuit Azuru

It Turns Me on when You Toy with Me…! Affair with Mrs. Manager

by Kingyo Ishikawa

"Miss, It's All the Way In." I'm Being NTR'd by a Part-Timer.

by Fuka Nanashiki

Molested Until She Cums! His Fingers Make Her Wet Inside

by Himehiko Qunami

My First Sexual Experience Was With My Older Sister's Boyfriend, -Don't Cum Inside Me With Her Right Beside Us…!

by Manjimaru Mibu

My Instructor Puts His Penis Inside Me While My Legs Spread Out In A Sexpose! ~ The Female Office Worker Drenched In Sweat Faints From Exhaustion During Her Yoga Session

by Petitgorichan

My Sister is My Girlfriend!? Sexual Relationship for Two Nights and Three Days

by Kaneharu Katagiri

My Swimsuit Slipped… and It Went In!? A Mixed Synchronized Swimming Club with More Than Just Nip Slips in Store!

by Syogota

My Younger Colleague is too Unfriendly… If Pushing Her Doesn't Work, I'll Put it Inside of Her.

by Fumiya

No Way, a Molester at a Capsule Hotel!? "You're the One Who Entered the Wrong Room, Right?"

by Hairi Takamiya

Orgasm is the Essential Part of Sex!? When I Try to Teach My Dull Childhood Friend Thoroughly…

by YukiHB

Playing With Sex Toys With My Childhood Friend

by Hazuki Minamino

She (?) Snuck into My Bedroom… "No… I'm Cumming!" Getting Teased by My Childhood Friend All Night Long

by Mitan Inoue

She's in Her 30s but Weak to Sex!? Screw Her Hard and She Turns into a Slut!

by Yohi

Sleeping Niece, Sneaky Uncle. He Teases Her All Night On A Hot Summer Night…

by Fujitsuna

Stealthily Fucking My Dozing Boss (She Came While Pretending To Sleep)

by Amane Nanakusa

"That's Too Bad… Should We Stop Here, Then?" My Reliable Senior is Dead Drunk and Begging Me for SEX

by Fumiya

"The Aphrodisiac Made Me Cum…!" I'm the Only Guy Who's Seen This Plain Girl's Lewd Face

by Hairi Takamiya

They'll All Find Out That It's Inside Me! (Having sex with my classmate who's hiding under the covers)

by Kazuma Ichihara

Wasted and Wet at the Company Camp! -The Hot Spring and Hotter Things Inside…

by mothica

Work-at-Home Clerk, Cums on All Fours! Impatient Delivery Sex

by Yoyogi Uehara

You Came During the Massage Earlier, Didn't You? The Swimming Girl Is Weak Against Naughty Stimulus

by Amane Nanakusa

"You Can Cum Three More Times, Right?" A Wife Who Is Made to Cum Many Times by Her Peerless Brother-in-Law Before Her Husband Comes Home

by Fuka Nanashiki

"You can grope it, if only 10 times…" Seeing the unexpectedly pleased face of a childhood friend, without thinking turns into full on sex.

by Mitan Inoue

"You Said Just the Tip…" I Asked My Brother's Girlfriend to Have Sex With Me Without a Condom!!

by Maimu Kotobuki

Your Husband is Mine. ~Wet Penetration at the Midnight Salon~

by toiro
BL (87 Titles)
A Boy Who Wet His Pants – Café de Doting Love: Don't drink it! It's my extra strong latte

by Shigeru Itoi

A Broken Heart Ally

by Jun Shinogi & Takeru Hisanagi

A Callboy's Secret

by Saaya Sara

A Comical Experiment Of Of A Scholar Who Consider Himself A Top: A Guinea Pig For Sex Gets A Boner When Bitten

by Tammy Hakoishi

A Gay Video and a Huge Awakening: 7 days drenched in man juice

by Reiji Togakushi

A Romance with My Older Brother's Ex-Boyfriend

by Yoko Onohara

A Sexy Contract of Blind-Love with My Scumbag Boss

by Ataru Kimi

A Shrine of Male Relationships: Lost Anal Virgin in Threesome

by Torino Rakuda

A Steamy Romance Blossoms at the Secret Springs

by Banana Nangoku

After-Shoot Snack

by Potato Yamamori

Although I'm a Straight Office Worker, A Freeloader is Making Me Moan Every Night

by Fuji Isshiki

Anon User "College Student" is Being Trained to Dry Orgasm.

by Leo Hoshizaki

Beloved Succubus Belongs to a Guard Dog

by Saaya Sara

Boys Only Sex Classroom: Hot-Blooded Hole Training, Please!

by Reiji Togakushi

Can I Practice Sex with You, Teacher?

by Mika Aso

Closet DT Boys Teach You: How to Really Have Exciting Sex

by Miyoko Matsumoto

Covered With White Syrup Sex App: Peachy Butt Install

by Miyoko Matsumoto

Dangerous Vices of a Gentleman Loan Shark

by Hachiko Sato

Delinquent Omega Belongs to the Beast King!

by Kumagoroshi

Did You Cum During Class? – The Teacher is the Delinquent's Toy

by Ginta Warabi 

Do Your Job, Incubus! ~Another Night of Naughty Service for You

by GuridaSoumu

Dream Guy Drinks a Love Potion and Goes Wild!

by Banana Nangoku

Eishi Tsuji Doesn't Do Love

by rasu

Fall For Me, Okay, Suzume? ~ Mr. Perfect Is Toying With Me

by Hamachi

Fast and Loose with a Devilish Little Model

by Kei Awai

Forced into heat by his scent!

by Gurida Soumu

Gal-guy! Come Have Some Pervy Fun with This Dirty Young Man

by Fuji Isshiki

Haru and Rui's Meow-nderful Life!​​

by Maki Harukawa

Host Dormitory Housekeeper

by Midori Suzukino

How to convince your best friend to sleep with you

by Tsushiko

How to Mess with a Feisty Kitten

by Saaya Sara

I Didn't Ask You to Eat Me!

by Nui Kumano

I Didn't Ask You to Make Love to Me! The Man I'm Obsessed With is a Male Porn Star

by Saike Natsuhara

I don't care if it's a performance, just devour me!

by Chizunaru

I Got Stuck Teaching an Airhead Novelist About Love

by Natsu Saito

I Love my Best Friend

by Washio Tobi

I Never Asked For Night Service!

by Ataru Kimi

I Only Want to Sleep With My Doctor.

by Fumito

I Won't Give Up until You Embrace Me!

by Nui Kumano

I'll Play With You, and Your Suit Too

by Kei Awai

I'll Make This Yakuza My Prisoner!

by Saaya Sara

I'm Being Hunted Down by my Slutty Superior for my Abnormally Large Schlong!?

by Hoshita

I'm Getting Conquered by a Beautiful Male Cosplayer

by Jagiiwa

Intellectual Yakuza Who Embraces, Loves and Won't Let Go!

by Hitoe Mabuta

Liar Mate: Let That Scent Soak Deep Inside

by Hazuki Natsu

Love at First Sight with Your Cute Nipples

by Mima

Love Nuisance Preventing Regulations: What do you do if you feel like somebody's watching you from behind?

by Megumi Hidaka

Midnight Porn – Who will be my partner tonight?

by Senco Yoshimoto

Mimori's Naughty Mouth

by rasu

Mr. Wolf Is Violently Smothering Me with Love

by Abuku

My Beloved Bathroom Slut

by Kokoro Namino

My Childhood Friend's an Overly-Attached Love Monster!

by Fuji Isshiki

My Roommate Obsesses Over Me

by Natsu Saito

My Sadistic Secretary's Sweet Voice Always Makes Me Come

by Mima

My Unfriendly Manager

by Nana Nanato

Nanase the Idol's Ω Secret

by Ginta Warabi

No Messing Around With Your Teacher!

by Senco Yoshimoto

Perverted Boss's Private Porno

by Hachiko Sato

Reward Me with Your Body, Sir

by Reo Ohno

Scripted Marriage: Start! – Caught Up in a Love Trap!

by Nica Kitabeppu

See You at the Pink Porno

by Yoko Misumi

Sex Domination!! -Let's Decide Who's On Top Once and For All-

by konno

Show Me Your Sexy Side, Caretaker!

by Senco Yoshimoto

Stop Taking Photos of Me During Sex!

by Maki Harukawa

Ten Years' Worth of Love! Eat Up!

by Abuku

The crybaby's at the mean devil's mercy

by Utako Nono

The Cursed Hole of the Shinoda Family: Instant Fusion + A Seal Broken by a Mischievous Boy

by Shuichi Saida

The Feel-good Deadline

by konno

The Impatient Heir

by Yui Asakura

The Naughty Boy's Way of Love

by Yoko Onohara

The Newbie Host Gets Disciplined on the Bed

by Potato Yamamori

The Pure-Hearted Puppy and the Erotic Tattoo

by Yoko Misumi

The Rich Middle-Aged Man Immediately Falls to the Delivery Boy

by Mima

The Sadistic Editor in Chief's Forbidden Guidance

by Potato Yamamori

The Stripper's Raunchy Antics

by Kunihara

The Younger Chef Melts Me With his Begging

by Risu Mitsuya

This Confident Virgin is Weak to Sex!

by Bando

This Guy at the Gym Is Way Too Hot!! – He'll Even "Practice" With Me at Night!

by Meguro

This Porn Star Just Doesn't Listen

by Hosita

This Slut's in the Midst of a Hot Love Scandal!

by Fumito

Touch me, please: I'll be waiting in the 8th car at 7:45 every morning.

by Marinosuke

Underneath the Uniform: A Twisted First Love

by Shigeru Itoi

We Became The Wives Of Beasts Today!

by Hazuki Natsu

We Shouldn't Embrace Just Because We Drank Alcohol – Endless Sex with a Relentless Beast

by Yoyo

We're Lovers Now! – This Big Mutt Moves Fast

by Abuku

You're My Prey – I Can't Believe I'm Being Eaten by an Herbivorous Rabbit!

by Ginta Warabi 

Yutori Has His Eye on His Boss' Body

by Fumito
TL / Romance (143 Titles)
25 Sleepless Hours: My Boss Spoils Me Between the Sheets

by Shimajima Othello

29 years old, Single, Living with the CEO?

by Nao Misaki

A Crossed Borderline

by Tomy Ishikawa / Rui Aimi

A Fake Marriage with My Glittering Boss ~ Tell Me What Your Favorite Position Is

by Kyo Kanai

A Frisky Noble

by Makia

A Secret Penalty: I Started To Live With My Childhood Friend

by rera

Ahn! Your Way Of Thanking Me Is Too Lewd! ~The Magician and Yamada From General Affairs~

by Ieyasu Konaka

And yet I'm the only one ~This man, his way of loving is top class.

by Sou Masumi

Are You Prepared To Be My Girl?

by Luna Kanihara

At 35, It's Too Late For Love

by Mikako

Becoming Friends With Benefits Impulsively… Is Shameless and Lewd

by Mimi Yamamoto

Bird-in-a-cage Lover

by Kiha Chihana

Bride's Special Spa Treatment: Threesome with handsome men x Tentacle Sex

by Minami Shiina

Cage of Intoxicating Pleasure - Drenched in Sweet Poison

by Mariya Karatachi

Can I show you my whole self? ~A second chance at true love starts with body

by Namiko Nanba

Corporate Drone Office Lady, Loved by the Party Animal Next Door~Wanna Try Coming Till Morning? Extremely Sweet Sex

by Taru Nojima

Do You Understand the Meaning of Living with a Man? Childhood Friend Reasoning Has Reached Its Limit

by Hinako Niwatori

Do You Want To Go Further? The Summer When I Cross the Line with My Childhood Friend Who Is My First Love

by Chise Sato

Doctor, How Can I Cum?

by Ryo Akiduki 

Drenched with Sin, the body demands to interwine

by Shigeru Itoi

Embracing Me Over the Balcony

by Roca Kato

Ew! My love letter from 7 years ago was delivered to that pervert!

by Fuka Nanashiki

Finger Techniques of the Sexy Beast

by Tadasugi

Former Delinquent Farmer's Sex Appeal is Dangerous – At Least Let Me Feel You Up

by Kazu

Geeky Girl Makeover

by Nao Misaki

Get hot: Brushing up your skills as a woman

by Suzu Kato / Rei Haruno

Happy Boyfriend: How To Get A Gorgeous Boyfriend

by Miri Hanaoka

Have Me for Tonight ー Cunning, Sweet, and Racy Sex Right After Heartbreak

by Kazumi Mitsuki

He Manages Me Sadistically: The Sudden and Dark Cohabitation

by Juri Nagumo

Hold Me? In Your Dreams! ~My Coworker Rival Corners Me With Love

by Tomomitsu Yamamoto

Hot Sex at My Front Door with a Flirty and Sweet Mailman

by Hino Tsutsura

I Can't Sleep With This Sex Animal

by Yuzu Kanzaki

I Can't Believe You're Hard! The Fierce Gay Man and the Virgin With Low Self-Esteem

by Myu Kisaki

I Fell in Love with a Fisherman—100% Wild and Open SEX

by Ricca Uno

I Made Love to My Most Hated Coworker.

by Nin Yoshida

I Met My Childhood Friend Again And… He's A Man Now!? Doting Sex that Makes Me Impatient

by Koguma

I want to back you into a corner

by Mimi Yamamoto

I Want to Train You and Break You: Black Butler's Sadistic Service

by Haruichi Fujiyama

I Won't Stop This Time: Popular Artist Turns Into A Beast

by Izumi Yukino

I Won't Be Your Friend With Benefits! ~- But You're Wet.~

by Yuuki Katori

I'll be in Charge of Your Body

by Sauro

I'll Have You if You Love Me That Much -The Flower Shop Prince Has Thorns

by Yuko Kamoto

I'll teach you what men really want: Cohabitation rules etched into my body

by Monaka Kuri

I'm A Heavy Drinker and All I Want Right Now Is To Pretend I'm Drunk and Be Held

by Yoruko Hirano

I'll Eat Every Last Part of Your Body: The Starving Wolf is Too Huge!

by Kei Shichiri

I'll embrace all of you ~Zero days dating, then suddenly marriage?!~

by Mizu Hashiba

I'll Have You Before He Does -Intense Love with Peerless Twins

by Megumi Toshimitsu

I'll make you come with three fingers~ endless caressing on the first night

by Riku Soraumi

I'll Risk My Life to Love You – A Dangerous Boss who is Pretending to be Innocent!?

by Ieyasu Konaka

I'll Thrust At You Till You're Full ~The Pure-Hearted Delinquent Devours As He Pleases!?

by Shizuru Takigawa

I'm 30 Years Old and I Can't Get a Boyfriend, so I Summoned an Incubus.

by Nako

I'm All Alone with a Carnivorous Beast Son of a Noble on an Uninhabited Island!? Moan All You Want

by Hinata Inozaki

If It's You, You Can Undress Me

by El Nanao

Imprisoned and bound in a honey flower

by Yuki Shiroi

In Apartment 501 Lives a Sex Hero​​

by

Ruki Ichikawa

Is that kokeshi doll an…adult's toy!?: The pleasure of a sadist Kyoto boy

by Poteri Saeki

Just drown in me

by Itsumi Takahashi

Lady-Killer Boss

by Juri Nagumo

Last night I got laid by my 'sexual' guardian

by Hibiki Kurono

Lewd Red Strings: The night I fell for a sadistic demon

by Satoya Hoshina

Like a Dream Between the Waves of Bedsheets

by Ruka Kirato

Living Together with a Fierce Gangster ー An Absolute Sex that Results in Either Life or Death!?

by Hinako Niwatori

Living with a Sadistic Beast

by Ao Yuki

Look at My Eyes and Cum

by Tokei

Love Me Kiss Me and Hug Me

by Itsumi Takahashi

LOVE TRAP I couldn't believe how head over heels he was for me, but it was just a trap.

by Kanatsu Karasuma / Monaka Toyama

Make Her Wet, Make Her Cum, Hold Her Tight – The Beautiful Man's True Nature is a Beast

by Hinata Nanase

Make Me Hard: My Boss Doesn't Know How To Go Easy on Me

by Nono Shimanaga

Man of Immorality: My body can't forget his smell…

by Abeno Matsuzaki

Mr. Bossy Pants Has His Way with Me Because He Loves Me?

by Ichigo Suzunari

My Boss Comforted My Broken Heart: His Tongue Is So Forceful

by Aihi Yamada

My Boss Is an Infatuated Monster!? Forceful Sex With No Common Sense

by Riku Soraumi

My Brother Taught Me How to Kiss Like Adults

by Mikki Katakura

My Carnivorous Young Boyfriend ~He Puts it in Again When I'm Worn Out from Coming

by Ruri Nagasawa

My Childhood Friend is a Perverted Doctor – This is Not a Palpation, He's Fondling Me!

by Shiro Niiya

My Childhood Friend is an Erotic Painter: Melting Over and Over Again in an Immoral Room

by Minami Shiina

My Doctor's Sweet Examinations

by Satoya Hoshina

My ex got hired and KABEDON'D me!

by Kaiji Umeda

My Ex is my Stepbrother -Let's Continue What We Stopped Back Then

by Taka Ayano

My First Time was with My Boyfriend's Little Brother: And I hope that neither of them hears me moan

by Kiha Chihana

My First Time: Rough Sex with a Blond Delinquent!

by

Baku Yumitsuki

My House Servant is Naughty and Cocky with Secrets…

by Nono Shimanaga

My Junior Colleague's Perverse Longing

by Ritsuka Arisu

My Middle-Aged Boss Is An Unfair Stud~Let's Start Our Weekend-Only Romance

by Yoshikazu Mib

My Predatory Boss Devours His Prey

by Tsuki Saejima

My ravenous boss. Hug you as many times as many #likes I gave you.

by Meito Tsukino

My sexy husband in the future: He is going to break my body…

by Ruki Ichikawa

No fair! Chief Madarame is a pervert! – I'll do you inside the way I want.

by Roca Kato

No Matter How Much I Cum, Satou Won't Let Go! Which Do You Prefer, Fingers or Tongue?

by Sawa Kurono

No use in arguing, you're my wife! -Being pursued by a male 12 years younger

by Koeda Mayuzumi

No! His Hand's Inside My Panties! With My Sworn Enemy at the Company Welcoming Ceremony…

by Myu Kisaki

Noo… His scent keeps turning me on!

by Rin Haruse

On the Precipice of Love at Age 33. I'm Being Coveted by a Cheeky Brat

by Midori Suzukino

One Day, I Suddenly Became a Mature Romance Lead

by Minami Hoshino / Yukari Mano

Only 0.01 millimeter between my boss and me: If my boss makes me try this condom…

by Mikako

Only You, the First Time and Every Time -Wanton, Bitter Reunion Sex

by Akane Himemiya

Onozaki is Too Passionate! I Want To Know Everything About You, Inside and Out

by Naki Kaori

Open Wide and Show Me More  The Lewd, Aggressive Dentist

by Koyori Kyobashi

Otaku Girl Falls For 3D – Excuse Me, That Manly Expression Is Way Too Precious!

by Ao Sato

Outside of the Office, My Perfect Boss Turns Into a Pervert

by Iyo Nanashima

Pouring It All in Without Wasting a Single Drop – Satisfying Sex with My Passionate Boss

by Yuzu Kanzaki

Professor, Let's Do Something More Erotic —Courtship Sex is Too Good to Run From

by Yuuki Katori

Reading Aloud with my Hot Teacher: You want me to read THIS out loud?!

by Kanade Kisaragi / Rui Aimi

Red Thread of Fate Melting on My Little Finger I Can't Believe He's My Fated Partner!!

by Fuzawa

Sadism overflowing from beneath his smock

by Ruki Ichikawa

Samurai from Edo, Passionate Caresses Remain in Season

by Happa Okonogi

Seriously can't pass this up. -Kohai's passionate sex won't stop until morning

by Hinata Nanase

Sexy Gentleman's Superb Techniques: I'll teach you how to be sexy

by Tomomitsu Yamamoto

Sleep on My Chest. -A Sexual Prescription for a Childhood Friend

by Fuka Nanashiki / Rui Aimi

Stay With Me Even if it Was a Dream

by Ruka Kirato

The cold-hearted wolf has come to devour me again

by Yuki Saku

The Delivery Princess and the Black Knight: A Slave Contract Sealed with Secret Juices

by Miri Hanaoka

The Flavour of a Kiss from the Most Dangerous Guy at Work

by Kei Shichiri

The Greengrocer is a Carnivore in Bed!? -He'll Taste It All!

by Sune Furukawa

The Jobless Girl and the Author -A Room and Three Meals, Plus Sex

by Yun Kibidango

The Kiss of My Subordinate Who Looks Like My Fave Makes Me Weak in the Knees ~ Drenched on Top of the Desk

by Rayu Hurutani

The Man of the Island's Unmatched Way of Capturing Me – Being Completely Loved on the Sea

by Sauro

The Only One I Want (to Tease) is You  My devilish co-worker made me cum!?

by Fuka Nanashiki

The Only Who Can Look Inside Here Is Me, Right? Fierce Looking Girl and Adorably Perverted Boy

by Yo Nanoka

The real pleasure of an older man: I've never came so hard!

by Megumi Kanzaki

The Rough and Deep Second First Love

by Shigeru Itoi

The Sadist Training Plan Condition – No way… you're going to lick me there?

by Mariko Sawamura

The Swordsman in Black and the Songstress Drown and Scream in the Moonlit Rendezvous

by Yuuri Futami

The Wild Beast in His Suit…

by Tadasugi

The World's Best Marriage Proposal: You Are Everything To Me

by Tomy Ishikawa / Rui Aimi

Think Only About Me…

by Yuko Kamoto

This Blond is Too Greedy! He Turned My Whole Body Into Chaos and Loved My Moles

by Chise Sato

This Sexy Body is Made by My Step Brother

by Takana Tsukudani

This Sexy Young Beast is Too Good at Taking Off My Clothes

by Hinako Niwatori

This Young Beast is Like a Forbidden Fruit

by Lin Sasaki

Tsubomi and the Florist -Wet My First with Your Fingers…

by Nin Yoshida

Violated by My Husband's Subordinate… I've Always Loved You.

by Poteri Saeki

Want to Learn SEX from a Pro? ~Sweet touches until you want more

by hacone

We Don't Know How To Make Love

by Namiko Nanba

We Slept Together and Now We're Living Together!? Don't Underestimate a Younger Man's Sexy Schemes!

by Shizuku

We'll continue your training in the archives tonight

by Poteri Saeki

What happens when you meet your ex at a group date?

by Suguru Takeura / Haruna Nagase

Wild Wolf

by Koyori Kyobashi

You can't go into the professor's lab because he's too sexy

by Yuko Kamoto

You're Saying No when You're this Wet? – Top National Sex with an Impudent Kyoto Man

by Yoigarashi

You're So Wet, Are You Trying to Seduce Me? A Dangerous Man who Makes Me Want to be Embraced

by Hinako Niwatori

You're the only one who gets me up ~Perfect sexual chemistry with a childhood friend

by Kouri Kashima

Your Cumming Face Is Unforgivable The Mean-Spirited Boss Makes The Virgin Wet With One Hand

by

Hinata Nanase
*Release dates to be announced later.
Fans can read these titles and more via the new Manga Planet, an integration of the Manga Planet Library and futekiya Library launching in spring 2023. 
The new Manga Planet will have four categories: 
Shojo / Josei

Shonen / Seinen

BL (futekiya)

GL (Yuri)
Categories for the Adult and TL / Romance titles will be announced at a later date.
By subscribing to its all-you-can-read plan, and/or renting or purchasing individual chapters and volumes, Manga Planet users can access a variety of manga titles from publishers, mangaka, and independent artists, including but not limited to Kodansha Ltd., WANIBOOKS Co., Ltd., Parsola Inc., highstone, Inc., Starts Publishing, Shodensha Publishing, Thirdline, SOZO Comics, Tokuma Shoten, Home-sha, Inc., LEED Publishing Co., Ltd., SAN-EI Corporation, SHONENGAHOSHA, I.T. Planning, Inc., Hobby Japan, futurecomics Co. Ltd., COMPASS Inc., OHZORA Publishing Co.,Ltd., Masaya Hokazono, and Nakashima723.