License Announcements
11 New Boys' Love (BL) Licenses from Home-Sha!
Volume 5 of "Simplified Pervert Romance," Volume 2 of "Here And There And Us (And Then And After)," and nine new BL titles to be released on futekiya!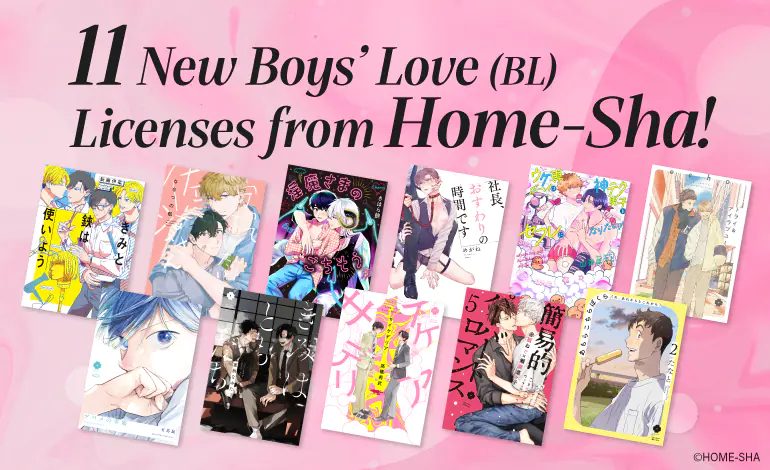 We're excited to announce the license acquisition of the following BL titles* from Home-sha Inc.:
Simplified Pervert Romance Volume 5

by Neg Sekihara and Nanako Semori

Here And There And Us (And Then And After) Volume 2

by Thanat

Shacho Osuwari no Jikan desu

by Megane

Ukesen boy wa Kamiteku Danshi to Sefure ni Naritai!

by Potato Yamamori

Tsubame no Koufuku

by Arashi Arima

Kimi wa Tomodachi

by Nayuta Nago

Kimi to Hasami wa Tsukaiyou

by Ina Shindo

Mamotte Agetai Sawatari-san

by Wataru Nanatsuno

Inma-sama no Gochisou

by Hasami Sahara

Psychedelia

by Hidebu Takahashi 

Try & I Love You

by echo
*English titles and release dates will be announced later.
Fans can read the first chapter of these Home-Sha BL titles for free. Subscribers to futekiya will have access to the full volumes as well as other BL manga titles published by Shodensha Publishing Co., Home-sha Inc., Parsola Inc., Julian Publishing, Thirdline, Group Zero, MUGENUP Inc., swamp, KAIOHSHA, EIWA Publishing, Media Soft Ltd., futurecomics Co., Ltd., Tokyomangasha, DOGENZAKA SHOBO, TAIYOHTOSHO, TORICO, COMPASS Inc., Libre Inc., TOSUISHA Co.,Ltd., Shonengahosha, Shusuisha Inc.,  ShuCream Inc., and independent BL artists in the futekiya Library.