License Announcements
futekiya Licenses 1 BL Title from FAT CAT!
Yonezou Nekota's "Inside God's Arms: A Room Filled With Love" to be added to Manga Planet's BL (futekiya) category!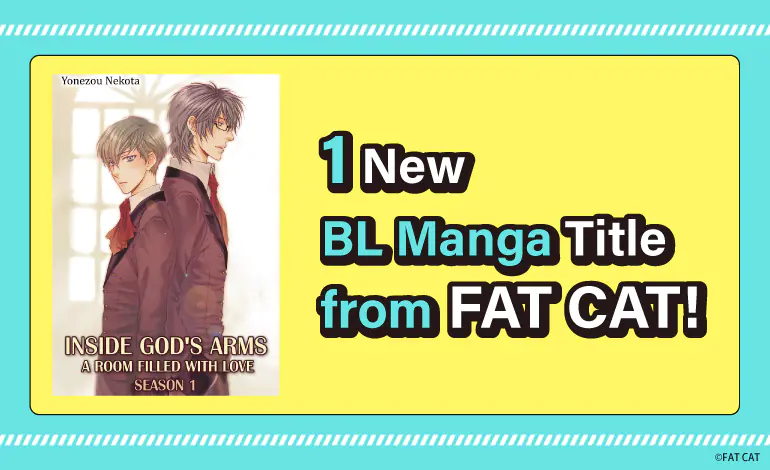 We're pleased to announce the license acquisition of one BL manga title from FAT CAT:
Inside God's Arms: A Room Filled With Love
Story and Art: Yonezou Nekota
Reno's got a new roommate and his name is Roger Brower. His nickname is "Casanova," and there are rumors that he sells his body for money.
Soon after arriving he asks Reno if he can leave the room for 3 hours once every 2 to 3 days so he can have sex with his clients, and Reno realizes the rumors are true. 
He tells Reno that he'll give him some of the money he makes as payment for renting out the room for that time. 
Reno reluctantly agrees and everything is going just fine, until the day he accidentally walks back into their shared room and is confronted with the sight of Roger having sex with one of his customers.
*Release date to be announced later.
Fans can read this title via the new Manga Planet, an integration of the Manga Planet Library and futekiya Library launching in spring 2023. This title will be under the category BL (futekiya). 
Additionally, under this category, users of the integrated Manga Planet will also gain access to other BL titles by Shodensha Publishing Co., Home-sha Inc., Parsola Inc., Julian Publishing, Thirdline, Group Zero, MUGENUP Inc., swamp, KAIOHSHA, EIWA Publishing, Media Soft Ltd., futurecomics Co., Ltd., Tokyomangasha, DOGENZAKA SHOBO, TAIYOHTOSHO, TORICO, COMPASS Inc., Libre Inc., TOSUISHA Co.,Ltd., Shonengahosha, Shusuisha Inc.,  ShuCream Inc., and independent BL artists.