License Announcements
12 More Boys' Love (BL) Titles from ShuCream!
Anji Seina's "Rooming with My Two Lovers," Tomo Serizawa's "Scarlet Secret," and ten other BL titles to be added to the futekiya Library!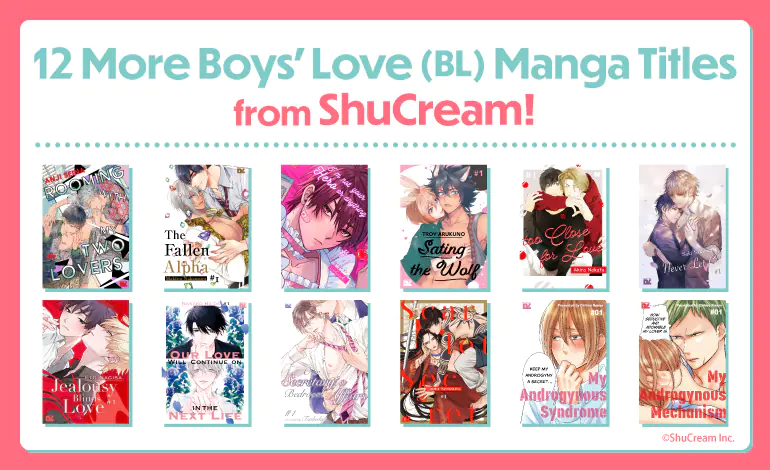 We are happy to announce the addition of the following BL titles* from ShuCream Inc.:
I'm Not Your Hero or Anything

by Uikashi

Jealousy Blinds Love

by Eiji Nagisa

My Androgynous Mechanism

by Chihiro Kanon

My Androgynous Syndrome

by Chihiro Kanon

Never Let Go

by Saki Sakimoto

Our Love Will Continue on in the Next Life

by Nanako Haida

Our Secretary's Bedroom Affairs

by Tsubaki

Rooming with My Two Lovers

by Anji Seina

Sating the Wolf

by Troy Arukuno

Scarlet Secret

by Tomo Serizawa

The Fallen Alpha

by Makino Nakamura

Too Close for Love

by Akira Nakata
*Release dates will be announced later.
Fans can read the first chapter of these ShuCream BL titles for free. Subscribers to futekiya will have access to succeeding chapters as well as other BL manga titles published by Shodensha Publishing Co., Home-sha Inc., Parsola Inc., Julian Publishing, Thirdline, Group Zero, MUGENUP Inc., swamp, KAIOHSHA, EIWA Publishing, Media Soft Ltd., futurecomics Co., Ltd., Tokyomangasha, DOGENZAKA SHOBO, TAIYOHTOSHO, TORICO, COMPASS Inc., Libre Inc., TOSUISHA Co.,Ltd., Shonengahosha, Shusuisha Inc.,  and independent BL artists in the futekiya Library.