License Announcements
Manga Planet Licenses 11 New Titles from COMPASS!
Hibiki Aoto's "Kimi no tame dake no Kubiwa," Rie Makita's "Eikoku Kizoku to Edo Recipe," Hiroko Shirai's "Cinderella Heel," and 8 other titles to be released on Manga Planet!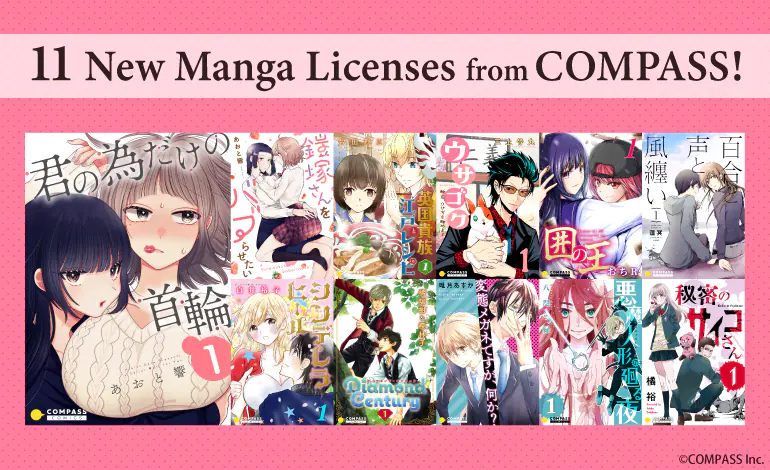 We are pleased to announce the license acquisition of the following romance manga titles* from COMPASS Inc.!
Kimi no tame dake no Kubiwa

Volume 1 by Hibiki Aoto

Yoroizuka-san wo Baburasetai

by Hibiki Aoto

Yuri to Koe to Kazematoi

Volumes 1-4 by Renmei

Diamond Century

Volumes 1-4 by Mizuki Tachibana and Rinko Sakura

Kakoi no Ou

Volumes 1-3 by Ochi-R

Cinderella Heel

by Hiroko Shirai

Eikoku Kizoku to Edo Recipe

Volumes 1-2 by Rie Makita

Hentai Megane desu ga Nanika?

by Asuka Yuzuki

Usagoku -Gokudou, Usagi mo Kiwamemasu-

Volumes 1-4 by Honemaru Mikami

Himitsu no Psycho-san

Volumes 1-4 by Yutaka Tachibana

Mephisto Piece no Mawaru Yoru

Volumes 1-3

by Midori Yata
*English title and release date will be announced later.
Fans can read a free sample of these COMPASS Inc. titles in the Manga Planet Library. Subscribers to the Library get to read the succeeding chapters in addition to other manga titles from OHSORA Publishing, Kodansha Ltd., WANIBOOKS Co., Ltd., Parsola Inc., highstone, Inc., Starts Publishing, Shodensha Publishing, Thirdline, SOZO Comics, Tokuma Shoten, Home-sha, Inc., LEED Publishing Co., Ltd., SAN-EI Corporation, SHONENGAHOSHA, I.T. Planning, Inc., Hobby Japan, futurecomics Co. Ltd., and by mangaka Masaya Hokazono and Nakashima723.