License Announcements
9 New Boys' Love (BL) Titles from Tokyomangasha!
Unohana's "Inu to Kaketsuki," Volume 8 of Kei Ichikawa's "Blue Sky Complex," and seven new BL titles to be released under Manga Planet's BL (futekiya) category!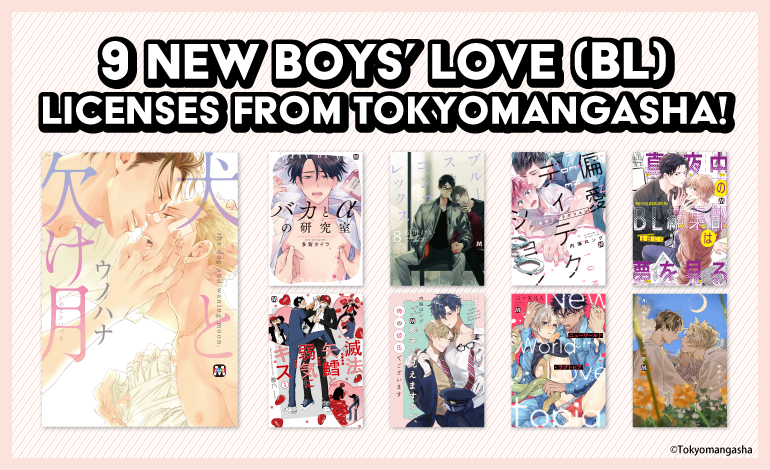 We're pleased to announce the license acquisition of the following BL titles* from Tokyomangasha:
Inu to Kaketsuki

Volumes 1-3 by Unohana

Blue Sky Complex

Volume 8 by Kei Ichikawa

New World Lovetopia

by Bond Mitsuya

Meppou Yatara to Yowaki ni Kiss

Volume 1 by Koshino

Tsuki wa Michikake Kemono no Koi

by Guri Nojiro

Baka to Alpha no Kenkyuushitsu

by Taira Taga

Henai Detection

by Long Utsumi

Migi te ni Miemasu no ga, Ore no Kareshi de Gozaimasu

by Long Utsumi

Mayonaka no BL Henshuubu wa Yume wo Miru

by Niku Ueda
*English titles and release dates will be announced later.
Manga Planet users can read the first chapter of these Tokyomangasha BL titles for free. Subscribers will have access to the full volumes, as well as a selection of other BL manga titles published by Shodensha Publishing Co., Home-sha Inc., Parsola Inc., Julian Publishing, Thirdline, Group Zero, MUGENUP Inc., swamp, KAIOHSHA, EIWA Publishing, Media Soft Ltd., futurecomics Co., Ltd., Tokyomangasha, DOGENZAKA SHOBO, TAIYOHTOSHO, TORICO, COMPASS Inc., Libre Inc., TOSUISHA Co.,Ltd., Shonengahosha, Shusuisha Inc.,  ShuCream Inc., and independent BL artists under the BL (futekiya) category.