License Announcements
8 New Boys' Love (BL) Licenses from Tokyomangasha!
Licca Arata's "Oni Joushi Gokudera-san wa Abakaretai," Mor Ichigaya's "Platinum Blood," and 6 new BL to be released on futekiya!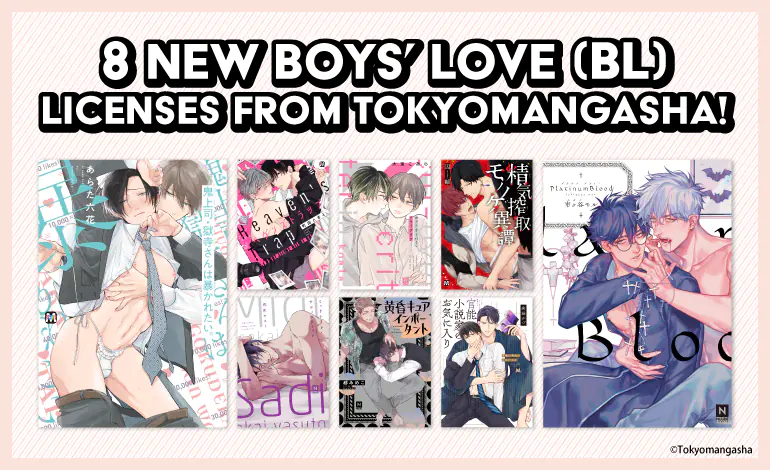 We are excited to announce the license acquisition of the following BL titles* from Tokyomangasha:
Oni Joushi Gokudera-san wa Abakaretai

Volumes 1-2 by Licca Arata

Kannou Shousetsuka no Oki ni iri

by Kadu Anji

Heaven's Trap

by Tomato Machida

Seiki Sakushu Mononoke Itan

by Inaba

Cut-over Criteria

by Koala Omugi

Platinum Blood

by Mor Ichigaya

Tasogare Cure Important

by Mimeko Miyako

Midnight Sadistic

by Yasuto Sakai
*English title and release date will be announced later.
Fans can read the first chapter of these Tokyomangasha BL titles for free. Subscribers to futekiya will have access to the full volumes as well as other BL manga titles published by Shodensha Publishing Co., Home-sha Inc., Parsola Inc., Julian Publishing, Thirdline, Group Zero, MUGENUP Inc., swamp, KAIOHSHA, EIWA Publishing, Media Soft Ltd., futurecomics Co., Ltd., Tokyomangasha, DOGENZAKA SHOBO, TAIYOHTOSHO, TORICO, COMPASS Inc., Libre Inc., TOSUISHA Co.,Ltd., Shonengahosha, Shusuisha Inc., ShuCream Inc.,  and independent BL artists in the futekiya Library.