License Announcements
Manga Planet Licenses 18 Shojo, Josei, and Seinen Titles from FUNGUILD!
Ichiko Takechi's "I Won't Get Married," Kurumi Mizuki's "Scabiosa," and Yumemitsuki's "ROOMMATES~ROOMmates x roomMATES~" coming soon to Manga Planet!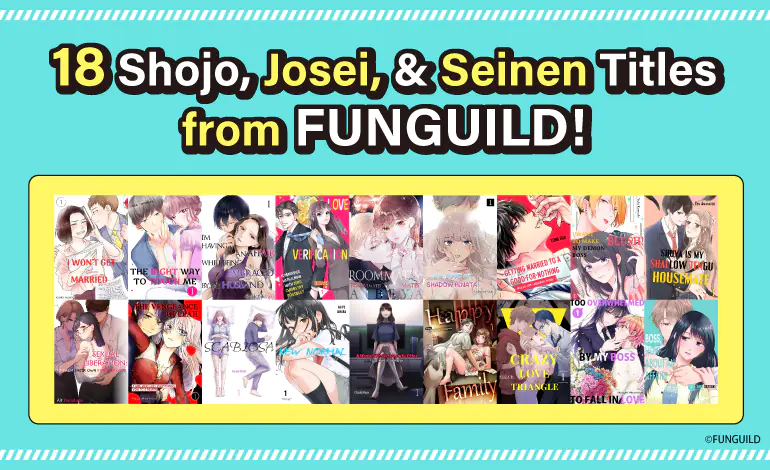 We're delighted to announce the license acquisition of 18 manga titles* of the Shojo, Josei, and Seinen genres from FUNGUILD!
The titles are organized by genre and in alphabetical order as follows:
Josei (4 Titles)
I Won't Get Married

by Ichiko Takechi

I'm Having an Affair While Being Embraced by My Husband

by Rui Ichikizaki

Love Verification – Is Marriage With a Man With Zero Chemistry Possible?

by Kodachi

The Right Way To Touch Me

by Aoha Yamakura
Seinen (7 Titles)
A Woman Who Destroys the Office ー I Just Want to be Happy

by Chiaki Mase

Boss, How about an Affair?

by Niko Satsuki

Crazy Love Triangle

by Mizue

Happy Family

by Tokei Shisei / Aonuma

New Normal

by Akito Aihara

Scabiosa

by Kurumi Mizuki

Too Overwhelmed By My Boss To Fall In Love

by Hazuki Minamino
Shojo (7 Titles)
Getting Married To a Good-For-Nothing ~Would This Marriage Work?~

by Toma Huji

I Want to Make My Demon Boss Blush!

by Yuki Komachi

ROOMMATES~ROOMmates x roomMATES~

by Yumemitsuki

Sexual Liberation: To Each Their Own Form of Love

by Alt Hanakage

Shuya Is My Shallow Tengu Housemate

by Ten Amanatsu

The Love Of Shadow Hinata

by Chinami Akio

The Vengeance Of Leah〜 A Girl Who Lost Everything's Vow To A Reaper

by Nagi Mashiro
*Release dates to be announced later.
Fans can read these titles and more via the new Manga Planet, an integration of the Manga Planet Library and futekiya Library launching in spring 2023. 
The new Manga Planet will have four categories: 
Shojo / Josei

Shonen / Seinen

BL (futekiya)

GL (Yuri)
By subscribing to its all-you-can-read plan, and/or renting or purchasing individual chapters and volumes, Manga Planet users can access a variety of manga titles from publishers, mangaka, and independent artists, including but not limited to Kodansha Ltd., WANIBOOKS Co., Ltd., Parsola Inc., highstone, Inc., Starts Publishing, Shodensha Publishing, Thirdline, SOZO Comics, Tokuma Shoten, Home-sha, Inc., LEED Publishing Co., Ltd., SAN-EI Corporation, SHONENGAHOSHA, I.T. Planning, Inc., Hobby Japan, futurecomics Co. Ltd., COMPASS Inc., OHZORA Publishing Co.,Ltd., Masaya Hokazono, and Nakashima723.