License Announcements
2 New Boys' Love (BL) Licenses from macaronRINX!
MINORU's "The Two Sides of an Envious Heart" and HEINE's "Instruction Manual for the Unfriendly Bodyguard" to be released on futekiya!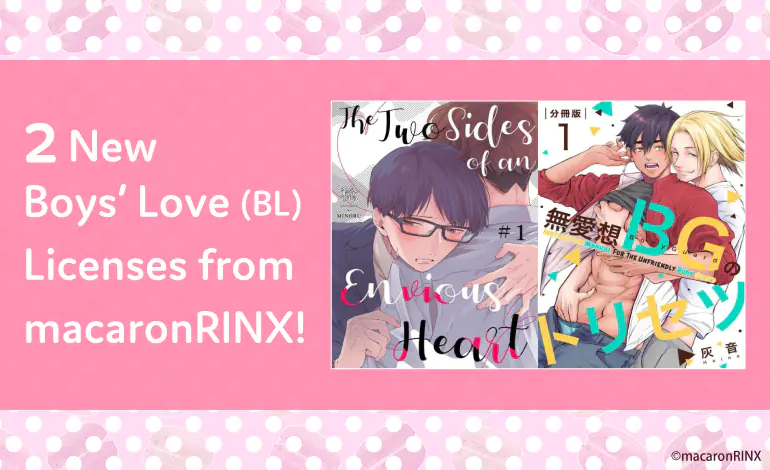 We're pleased to announce the license acquisition of the following BL titles* from macaronRINX:
The Two Sides of an Envious Heart
Story and Art: MINORU
"I can't believe this is your first time. You're a natural, sir."
Perfect in every way from looks, personality, and work ethic, salaryman Shirosawa's team leader Kurotake has got him beat. But when they happen to match on an anonymous gay hookup app, Shirosawa's got the chance to find his weak spots.
What starts as some light teasing leads to Shirosawa unraveling the tightly-wound Kurotake in bed… and maybe one night of pent-up jealousy and chemistry between one laid-back office worker and his no-nonsense superior can turn into something more?
Instruction Manual for the Unfriendly Bodyguard
Story and Art: HEINE
"You have such a lewd face. This is turning me on more than I expected."
Takaomi Ichinose, the eldest son of a powerful corporate family, isn't too fond of his cocky young bodyguard, Touya Kurosaki. Tired of being guarded around the clock, Takaomi gives Touya a "special" drink and tries to slip away… but Touya, usually so cool and collected, has such a cute reaction that Takaomi can't hold himself back!
And why is Touya so fiercely overprotective of his clients?
The troubled son of a distinguished family and a dark-skinned, baby-faced, unfriendly young bodyguard, starting with sex and blooming into pure love!
*Release dates to be announced later.
Fans can read these titles via the new Manga Planet, an integration of the Manga Planet Library and futekiya Library launching in spring 2023. 
These titles will be under the category BL (futekiya). Additionally, under this category and the futekiya brand, subscribers to the integrated Manga Planet will also gain access to other BL titles by Shodensha Publishing Co., Home-sha Inc., Parsola Inc., Julian Publishing, Thirdline, Group Zero, MUGENUP Inc., swamp, KAIOHSHA, EIWA Publishing, Media Soft Ltd., futurecomics Co., Ltd., Tokyomangasha, DOGENZAKA SHOBO, TAIYOHTOSHO, TORICO, COMPASS Inc., Libre Inc., TOSUISHA Co.,Ltd., Shonengahosha, Shusuisha Inc.,  ShuCream Inc., and independent BL artists.