News
Get Up to 12,000 Free Points with the Manga Planet Bonus Points Campaign!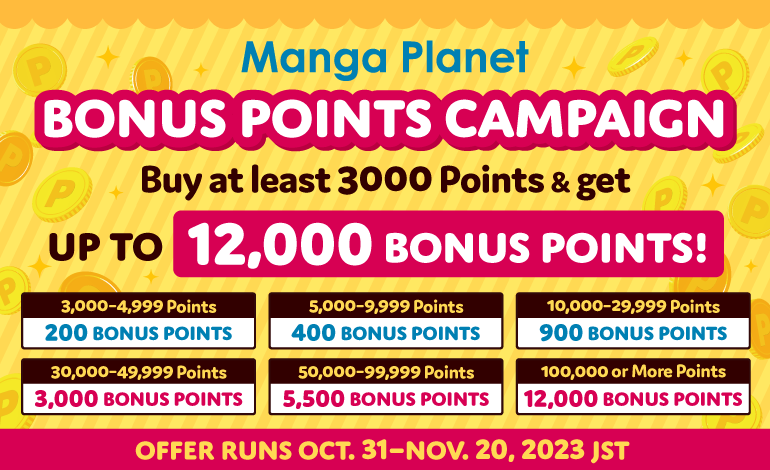 We've just launched our Bonus Points Campaign, which runs from 6:00 pm JST on October 31, 2023 to 11:59 pm JST on November 20, 2023!
During the campaign period, readers who make a total purchase of 3,000 or more Manga Planet Points will get 200–12,000 bonus Points. You got that right: a total purchase within the campaign's duration — no need to spend at least 3,000 Points in one go!
Eligible Points purchase quantities and corresponding bonus Points are as follows:
3,000–4,999 Points: +200 bonus Points

5,000–9,999 Points: +400 bonus Points

10,000–29,999 Points: +900 bonus Points

30,000–49,999 Points: +3,000 bonus Points

50,000–99,999 Points: +5,500 bonus Points

100,000 or more Points: +12,000 bonus Points
Bonus Points will be distributed accordingly to eligible users from November 21, 2023 onward. 
Each Point is worth US$0.01 (1 cent) and can be purchased in packages starting at 300 Points via PayPal or Stripe.
Purchased and bonus Points alike have a maximum validity period of 180 days from the date of purchase. Regardless of reason, Points are non-refundable, and their validity period cannot be extended.
Introduced in 2022, Points can be used to digitally rent or purchase titles on Manga Planet's library. Accessibility options for titles on Manga Planet vary according to publishers' terms, with selected titles exclusively readable via Points. Additionally, selected titles have chapters or volumes readable as a preview via Manga Planet Pass (subscription plan), with the rest exclusively readable via Points.