Press Releases
Manga Planet Expands by Merging with futekiya, Boosting Reader-Oriented Services
The merge marks the major first step in a series of ambitious moves aimed at diversifying Manga Planet's offerings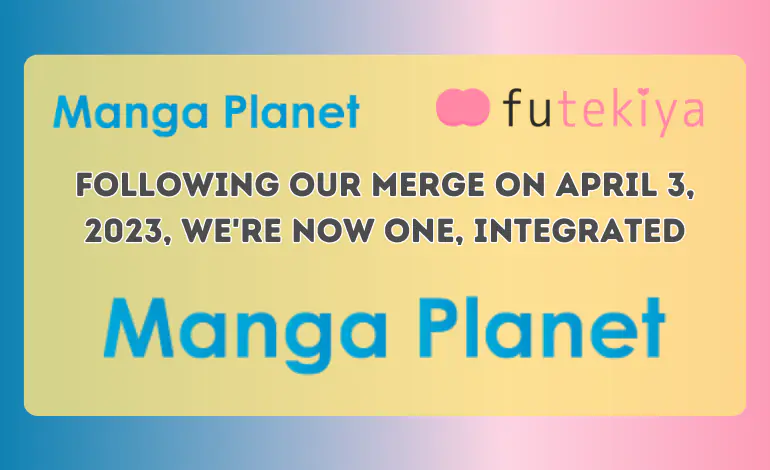 Ikebukuro, Japan — In a strategic move to optimize and add value to its service, manga subscription website Manga Planet has merged with its Boys' Love (BL)-focused sister brand, futekiya, on April 3, 2023. 
The result is an integrated and enhanced Manga Planet, with subscription plans offering access to two digital libraries for the price of one. Meanwhile, the futekiya brand will be retained as the name of Manga Planet's BL category, and its social-media accounts will be maintained.
Concurrently launching with the merge is Manga Planet's new "individual purchase/rental" model, through which readers can use points to purchase or rent titles by chapter or volume.
By offering these options in addition to its subscription plan, the company expects to more easily acquire a greater number of titles for distribution. Manga Planet producer Daisuke Takahashi remarks, "There are still many series that we haven't been able to share with our readers. With this change, we'll be able to expand our catalog."
As of April 3, 2023, Manga Planet's lineup features over 800 titles spanning a wide range of genres. Upcoming additions include titles published by Kodansha USA Publishing, FUNGUILD, Mobile Media Research, Rush!, and FAT CAT. 
Furthermore, without overlooking its other categories: Shonen/Seinen, BL (futekiya), and Yuri/GL, Manga Planet also aims to increase its Shojo/Josei offerings.
"Although each brand holds a lot of value to us, we decided to break the barriers between Manga Planet and futekiya to give a broader range of titles to our users, which we hope they take as an opportunity to explore and discover new series," says Hiroki Kurihara, president of Manga Planet's operating company, FANTASISTA, INC.
Manga Planet director Hirotsugu Takano adds, "This merge has been our biggest announcement since the launch of futekiya Library in July 2019. While we understand that this may come as a shock to some, we believe that this was a necessary decision for us to move forward and meet users' and stakeholders' needs."
Mr. Takano, Mr. Takahashi, and Mr. Kurihara extend their gratitude to Manga Planet and futekiya users for their support.
"We will continue to keep at the forefront our goal of providing an ever-growing range of manga at affordable prices," Mr. Kurihara reassures fans. Prices for Manga Planet's subscription plan remain unchanged, starting at US$1.99 for one week and, at most, US$47.99 for 12 months.
Mr. Takano affirms, "We still have much to work on, but we'll keep taking strides to make our service a huge and crucial part of fans' manga-reading life." In a video posted to Manga Planet's official YouTube channel on February 26, 2023, Mr. Takano revealed further developments for Manga Planet in the pipeline, such as platform improvements and an app.
The New, Integrated Manga Planet: A Fact Sheet
Overview
About the Service

An online service to legally read officially licensed English manga

URL
https://mangaplanet.com
Available Titles

844 (as of April 3, 2023)

Reading Options

Subscription plan

Individual purchases/rentals

Free reading of selected chapters

Note: Available options vary per title depending on the contract with the publisher.

Cost (Subscription)

1 Week: US$1.99

1 Month: US$6.99

3 Months: US$17.99

6 Months: US$29.99

12 Months: US$47.99

Cost (Chapter/Volume)

Varies per title; payable with points

Title Categories

Shojo/Josei

Shonen/Seinen

BL (futekiya)

GL/Yuri
Available Titles: A Selection
Shojo/Josei

He is 10 Years Younger Than Me!


©2019 Nagi Sawara/SHODENSHA Publishing CO.,LTD.

All Bases Loaded! 

©︎Masaya Sena/TOSUISHA Co.,Ltd. 2006

A Substitute Marriage With an Admirable Husband


©︎MIO TATSUMOTO/OHZORA Publishing Co.,Ltd 2017/span>

Shonen/Seinen

Ⓒ2005-2021 I.T. Planning, Inc.

©Yoshitaka Amano/©ZAN LLC

©︎Azure Konno/WANIBOOKS

BL (futekiya)

©︎Hidebu Takahashi 2021/HOME-SHA

©︎KOTETSUKO YAMAMOTO/KAIOHSHA

At 25:00, in Akasaka©︎ Hiroko Natsuno/Shodensha on BLUE comics

GL (Yuri)

©2019 Ayu Inui/SHODENSHA Publishing CO.,LTD.

Yuri Will Not Blossom at Work!


©️Mai Yanagawa/©️Ruri Hazuki/Parsola Inc.

First Love Story: Shino x Asuka Story


© favary Inc./©️Kosame Tamaoki/©️Hibiki Aoto/Parsola Inc.