Press Releases
Manga Planet Redesigns Service Model, Launches Discount Campaign!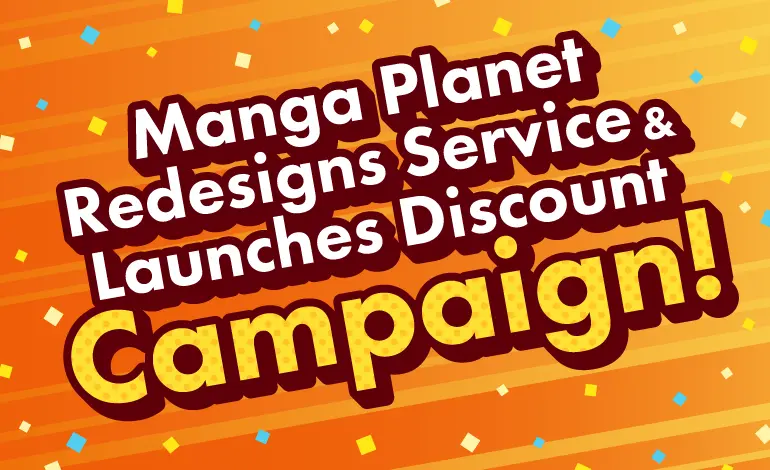 Ikebukuro, Japan — To address readers' and publishers' concerns regarding its payment systems, online manga reading service Manga Planet has redesigned its service model on September 27, 2023. Concurrently, it also launched a discount campaign on the same day, offering its 12-month Manga Planet Pass — the new name for its subscription plan — at 50% off.
The Redesign
Effective September 27, 2023, Manga Planet's subscription plan has been named Manga Planet Pass, with subscribers known as Pass Holders. However, prices, durations, and terms and conditions remain unchanged, starting at one week for 1.99 USD and going up to 12 months for 47.99 USD. Current subscribers need not to take any action, as only the naming has changed.
Additionally, for further ease of browsing the list of titles available in full, in part, or exclusively via the Manga Planet Pass, Manga Planet has also implemented clearer browsing lists and enhanced filtering options. Readers can now view the following lists:
Titles available to Manga Planet Pass Holders (subscribers) at no extra cost

— i.e. no need to spend Points to unlock chapters or volumes

Titles available in part to Manga Planet Pass Holders (subscribers)

— i.e. requiring Points to unlock chapters or volumes

Titles available in full to Manga Planet Pass Holders (subscribers) exclusively

— for titles that are only available via the Manga Planet Pass (i.e. unavailable for purchase or rent via Points)
The Discount Campaign
To commemorate the redesign, Manga Planet is offering its 12-month Manga Planet Pass at 50% off from September 27, 2023 until 11:59 JST (UTC+8) of October 18, 2023. This plan is regularly priced at 47.99 USD; it will cost 23.99 USD for the duration of the campaign.
This offer is open to registered users who do not have an active Manga Planet Pass (i.e. an active subscription plan). Those who wish to avail of this offer but do not have a Manga Planet account must first sign up to create a free account, while those who are already registered users simply have to sign in and subscribe to the 12-month Pass.
The following terms and conditions apply:
Those who have an active Manga Planet Pass (i.e. subscription) will not be able to avail of this discount. Even if they cancel their current Pass, they must wait for it to expire before they can obtain another Pass

The Manga Planet Pass will be automatically renewed. Users will be billed accordingly unless they cancel their Pass before it is scheduled to renew

The regular price of 47.99 USD will be applied when the Manga Planet Pass is renewed 12 months (1 year) later
Sign up for Manga Planet then subscribe here
OR
Sign in and subscribe here
The Reason for the Redesign
In a video titled "The Redesign — Notice of Change in Payment Model," Manga Planet Director Hirotsugu Takano explained that the redesign was implemented to address users' misunderstandings regarding Manga Planet's payment systems. 
According to Mr. Takano, in light of the merge of Manga Planet and its Boys' Love (BL)-focused sister brand futekiya on April 3, 2023, there have been persistent misconceptions that the number of titles available via Manga Planet's subscription plan was reduced.
At the same time, this change is also aiming to ease the Japanese publishing industry's wariness regarding a subscription-based licensing model, which is viewed by many Japanese publishers and creators as a devaluing of their work.
By reorganizing its payment models and renaming its subscription plan, Mr. Takano believes that users will be able to see the value and benefits of a subscription, seeing it as a means to bypass paying per chapter or volume via Points. 
He also hopes that this will help Manga Planet establish a business model and brand that will convince publishers and creators that subscription-based licensing does not equate to cheaply "throwing away" their work.
Watch the explainer video in full here:
Manga Planet started in 2012 as a joint project between FANTASISTA, INC. and Dai Nippon Printing Co., Ltd. to research the ways manga is read throughout the world. 
In 2019, Manga Planet launched the Boys' Love (BL) subscription service futekiya Library, followed by the multi-genre Manga Planet Library in the same year. Both libraries were merged into one Manga Planet in April 2023.
Bridging the needs of international manga fans and the Japanese manga industry, Manga Planet pushes for affordable access to officially licensed English-language manga through multiple payment models: purchasing or renting titles through Points, or cost-effective reading through the subscription-based Manga Planet Pass.
Visit Manga Planet's official website to find out more about its service, and start by signing up for free.