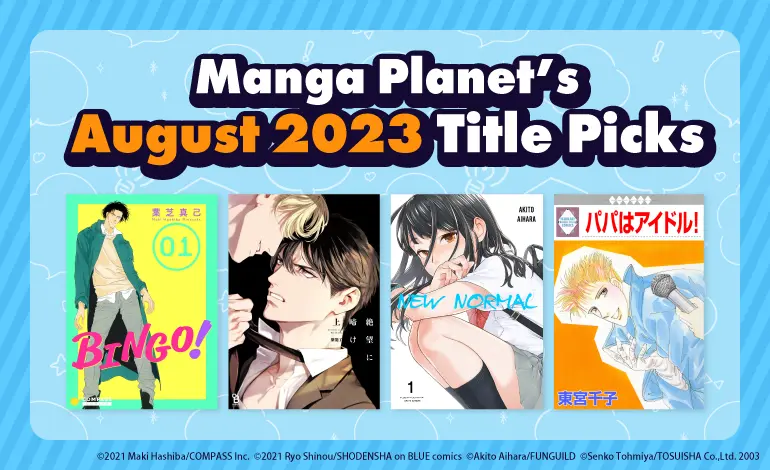 For our August 2023 monthly recommendations, we've picked two BL titles, one seinen title, and one shojo title. Look out for more recommendations in the months to come!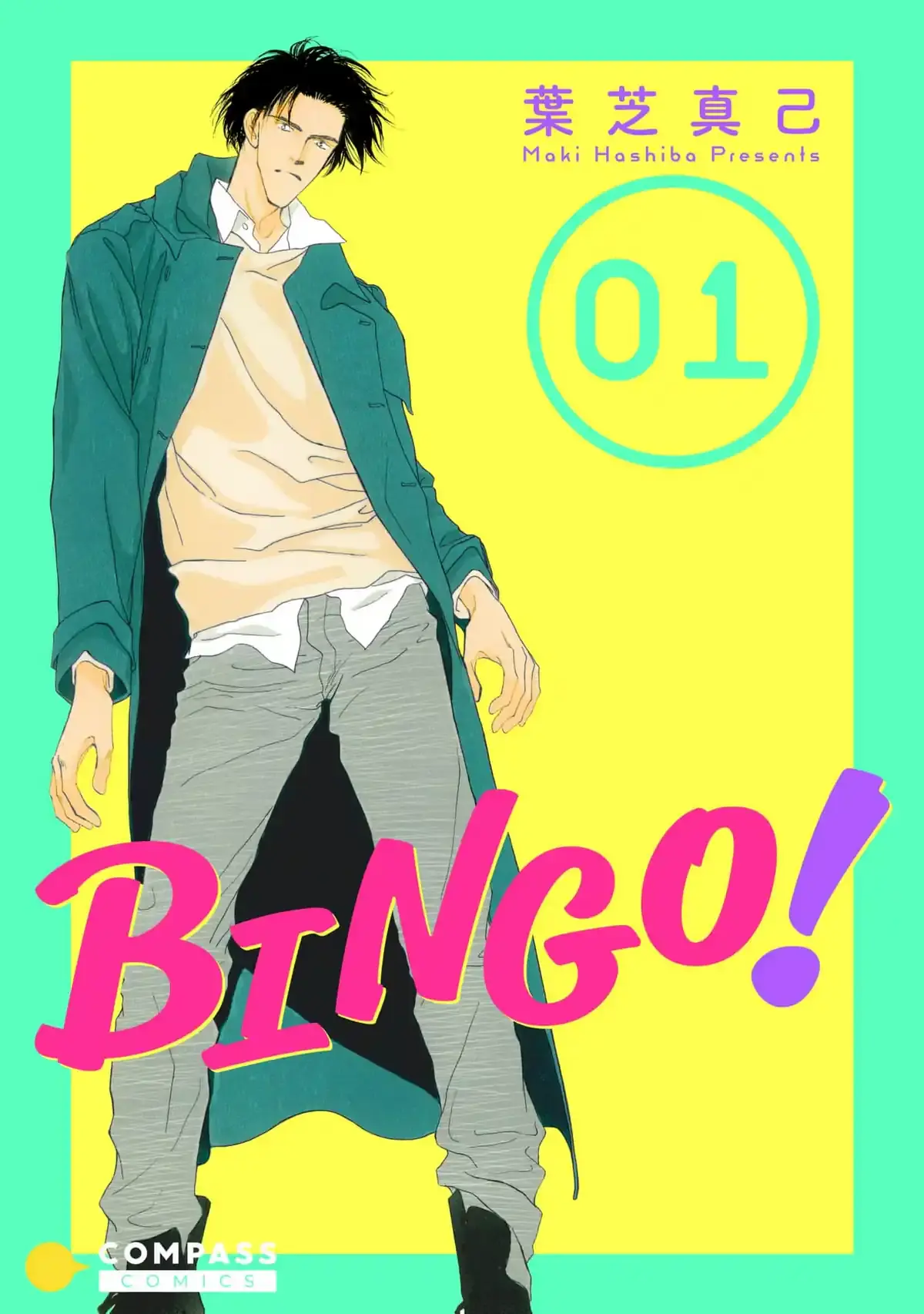 Author: Maki Hashiba
Publisher: COMPASS Inc.
Genre: Boys' Love (BL)
Status: Ongoing (currently 6 volumes)
Access Options: 
Subscription (readable in full)

Points (readable in full)

Free preview of Chapter 1
Synopsis
A very unlikely couple, whose lives couldn't be any more different, finds themselves inexplicably drawn to each other.
Shin's always been a very "accident-prone" teen, but surely laying eyes on super-popular model Ukon isn't such a bad thing…right? What kind of lives do they have to live through when they're somehow stuck together?
Why we recommend BINGO!:
Maki Hashiba's BINGO! is a fun and light-hearted read, what with the over-the-top hijinks that Shin and Ukon get into. With Shin being a magnet for trouble (though it probably doesn't help that he's very hot-blooded and impulsive), boy, do he and Ukon get into all sorts of shenanigans, ranging from mundane silliness to more high-stakes scenarios!
Despite leading very different lifestyles, Shin and Ukon have a fascinating chemistry, and it's a delight seeing how they bounce off of each other, as well as how Ukon manages to remain so chill despite constantly being roped into Shin's messes.
Give BINGO! a try if you're into the "idiots to lovers" trope — you'll have an enjoyable time reading this one!
Author: Akito Aihara
Publisher: FUNGUILD
Genre: Shonen/Seinen
Status: Ongoing (currently 25 chapters)
Access Options: 
Subscription (partially readable until Chapter 11)

Points (readable in full)

Free preview of Chapter 1
Synopsis
"Before my generation was born… A pandemic had brought change to our world."
In the near future, hiding your mouth behind a mask became a normal part of life. Natsuki, a girl fascinated by the world before the global pandemic; and Hata, her classmate, end up sharing a small secret…
The story of their new everyday life, their "new normal" begins here!
Why we recommend New Normal:
One of the manga selected by the jury for the Japan Media Arts Festival Awards in 2022, New Normal explores what life could have been (albeit with a touch of hyperbole for artistic license) if consistent masking and strict social distancing were enforced. (This writer finds it interesting, though, that, in a universe like this, the pandemic was never mitigated despite measures like masking up daily became the norm.)
In this universe, young generations have gotten so used to mask-wearing that showing your unmasked face is almost like flashing your genitals at someone, and giddy teenagers see face reveals as something that you'd only do when you're in a serious relationship with someone.
The first few chapters of this seinen manga play out as a slice-of-life school drama, with the ordinary Hata getting into awkward scenarios like almost-kisses with several girls whose unmasked faces he accidentally gets a glimpse of.
Of course, in the background, some exposition, as well as throwaway mentions here and there, hint that despite most of society accepting this "new normal," there's some discontent and distrust bubbling beneath the surface.
Later on, as the story picks up, the harem romance aspect takes a backseat as our teen protagonists get swept up in situations even bigger than they could've imagined, and that's when things get more interesting. 
New Normal is still ongoing, but we can't wait to find out what happens next, and what will be revealed. Join us in reading along!
Author: Senko Tohmiya
Publisher: TOSUISHA Co.,Ltd.
Genre: Shojo/Josei
Status: Ongoing (currently 1 volume)
Access Options: 
Subscription (all currently available volumes)

Points (all currently available volumes)

Free preview of Chapter 1
Synopsis
For the past decade, Mori Productions' popularity has been soaring with sweet, angelic, ditzy idol Junichi Enomoto as its rising star.
But there's a little secret that hasn't made its way through the grapevine: a tall, intelligent high school freshman, Junichi's secret son, Sho.
Between dealing with his airhead of a dad and said dad's annoying manager, can Sho ever find a moment of peace?
Why we recommend My Papa is an Idol!:
Fun fact: My Papa is an Idol!'s first (and currently only) volume was first released in 1992. And while no subsequent volumes have been released since then, as far as we know, this series isn't considered over yet.
Despite this series not yet being completed, this writer found the premise fascinating enough to check out, especially because it's a series revolving around a male idol protagonist. Not that there's anything wrong with stories featuring female idols; it's just nice to see something else for a change!
Junichi and Sho have quite the father-son relationship, to say the least, with Sho coming into Junichi's life through some rather dubious circumstances. That doesn't stop the ever-optimistic, child-like Junichi from caring deeply for Sho, though. And even though Sho is a serious young man of few words who's often exasperated by his father's airheaded antics, he feels the same way, too.
But another interesting relationship is that of Junichi and his manager, Yuuki. Even though Yuuki is cold and intimidating, there's a softer side to him — find out what exactly we mean when you read this series. The way Yuuki talks about Junichi sometimes, you'd think this series was actually a slice-of-life BL despite being categorized as shojo!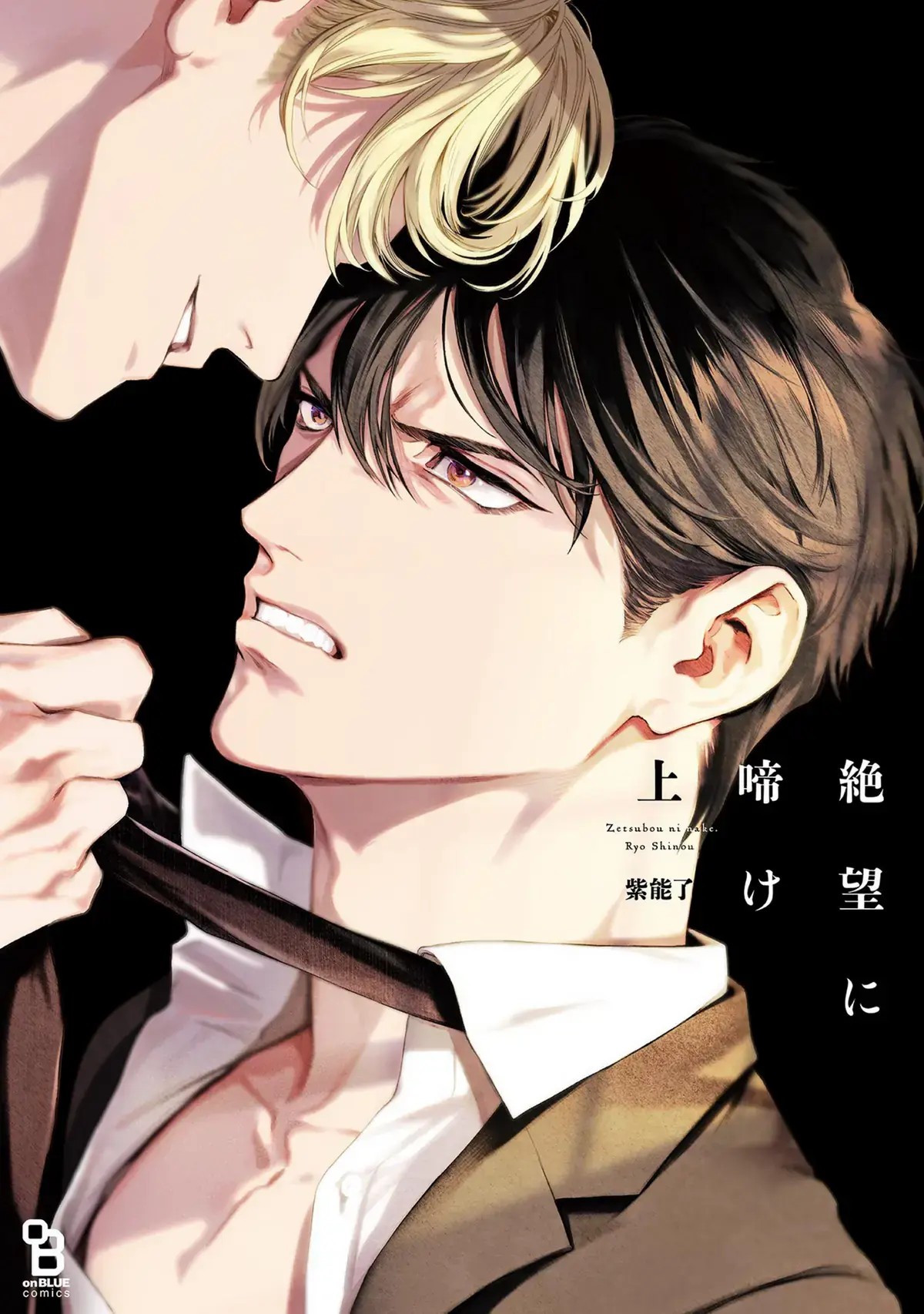 Author: Ryo Shinou
Publisher: SHODENSHA Publishing Co.,Ltd.
Genre: Boys' Love (BL)
Status: Completed (2 volumes)
Content Warnings: Some depictions of rape and dubious consent
Access Options: 
Subscription (readable in full)

Points (readable in full)

Free preview of Chapter 1
Synopsis
Six years ago, something happened between Akamine and Utsumi. Six years later, only Utsumi remembers. But why does he want Akamine to remember that night so badly?
Why we recommend Cry of Despair:
Emma, our resident expert in all things BL, can't recommend this title enough, but this writer wanted to go into this title without any spoilers! And so, intrigued by the synopsis, Emma's recommendation, and the stunning cover image, this writer decided to give Cry of Despair a read. (Even if Emma hadn't recommended it, though, the art was already more than enough to pique this writer's curiosity.)
Without going into detailed spoilers, Cry of Despair is a betrayal-and-revenge drama featuring two very broken and messy leads, making it very difficult to stop reading. You won't get any peace until you know what happens next, especially with the characters constantly trying to get the upper hand on each other. It helps that Ryo Shinou's art is truly such a treat for the eyes, too.
If complex and flawed is how you like your characters, this series is definitely one to check out. It's just 13 chapters long, so if you have the time to spare, you can easily read this in one sitting. Fair warning, though, for those who don't have the stomach for it: Cry of Despair contains depictions and discussions of non-con (i.e. rape) and dubcon.